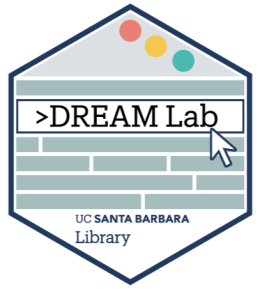 The Data, Research, Exploration, Access & Methods (DREAM) Lab, formerly known as the Interdisciplinary Research Collaboratory, is a Library initiative to help UCSB scholars learn new skills, access specialized computational resources, and build data collections. Established in 2016 and led by Jon Jablonski and the "DREAM Team," the DREAM Lab especially seeks to serve campus communities that have traditionally lacked access to computational resources.
"Our new name reflects the fact that data, research, experimentation, accessibility, and methodological rigor are the foundations of everything we do," Jablonski comments. "We found that specific departments–primarily in the humanities and social sciences–and certain demographics of students were lacking computational access. DREAM Lab looks to provide some of that access: both in terms of access to processors and software, and more importantly, in terms of access to appropriate, well-designed instructional resources for new data scientists."
By offering Data Carpentry workshops, the DREAM Team is able to provide students, faculty, and staff with the necessary foundational skills to apply data-driven discovery to any number of research fields, from the humanities to the sciences. Attendees have the opportunity to learn the basics of geospatial, graphic, qualitative analysis, financial data, and quantitative analysis software. More than 600 learners have participated in 54 workshops since 2019.
"We are the place to go if you need more specific software not installed on the 'walk up' computers, or if you are looking for access to the Library's data collections," says Jablonski. "We support campus licenses for NVIVO, MaxQDA, and Esri's ArcGIS. UCSB scholars can ask us anything about data."
The DREAM Lab is a highly experimental program, and is constantly evolving its practices to meet the needs of UCSB students. They recently completed the first year of a 5-year plan to help redefine their role, resulting in a stronger program identity and the renaming of the Lab to reflect it. This change also comes after the trials of the pandemic, when the DREAM Team's innovation regarding virtual and hybrid workshops significantly influenced their operations. 
"Some things remain consistent, while many things have changed," says Jablonski. "You no longer have to physically visit the Library to access the data collections. We can give you access to our specialized software on a powerful cloud computer, and did so for almost 100 students during spring quarter. This fall we are also expanding to [Library] room 2511, which will become an augmented reality/virtual reality studio."
The DREAM Team's efforts have been reflected in the advancement of campus's Data Science Initiative, which seeks to encourage and support data science research, majors, and instruction and course offerings across campus. Successful implementation comes in the form of recently graduating the first cohort of Environmental Data Science Master's students, offering a new Data Science major option, replacing older programming languages with free and open-source R and Python in the classroom, and the Center for Black Studies' SEEDS program, which the DREAM Lab supported with over 900 student contact hours last year.
"We are not doing this alone. We are part of a larger movement towards open, reproducible science," Jablonski says.