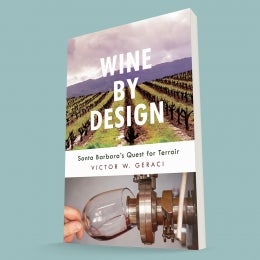 A Glass Half Full: Alumnus Victor Geraci discusses the Viticulture Collection, his new book, and the future of Santa Barbara wine
The UCSB Library's Department of Special Research Collections (SRC) prides itself on the preservation of local Santa Barbara history, having acquired and built collections that range from the Carpinteria Chronicle to the 1969 Exxon Valdez oil spill, and much more.
Until 2018, however, a crucial piece of local history had yet to be fully recognized within these collections: Santa Barbara wine history. This all changed due to UCSB alumnus Dr. Victor Geraci, who established the Victor Geraci Viticulture Collection Endowment to support the Library's Viticulture Collection.
Dr. Geraci completed his doctoral dissertation on Santa Barbara's wine business at UCSB in 1997, titled "Grape Growing to Vintibusiness: A History of the Santa Barbara, California, Regional Wine Industry, 1965-1995." He went on to lead a rich career in American History education and academia, ultimately retiring in 2013 from his position as the Associate Director and Food and Wine Specialist at UC Berkeley's Bancroft Library Oral History Center. He now continues to add to his impressive collection of books and publications from his home in Murrieta, CA. His current work includes a biography of John DeLuca, the former CEO of the Wine Institute.
The Victor Geraci Viticulture Collection Endowment is named after Dr. Geraci's Sicilian father, who worked as a laborer in California's table-grape agriculture industry alongside his father and siblings. 
"I wanted to give something back to the University, something that my family has been involved in their entire lives," Dr. Geraci explained.
The endowment is intended to support current and future scholarly research of the local wine industry and to assist the acquisition of new materials, including wine labels, photographs, maps, working documents, oral histories, and other ephemera.
"Each winery has a story about how they opened up," he explained. "It would be a great time to start harvesting their documents for future scholars." 
Dr. Geraci's new book, Wine by Design: Santa Barbara's Quest for Terroir, will also be added to the Viticulture Collection. Intended as an update to his 2004 book, Salud! The Rise of Santa Barbara's Wine Industry, he reviews the history of both the Santa Barbara and larger California wine industry, with particular focus on developments in the past 20 years. The tone is hopeful, describing a long history of adaptive winemaking, or "wine by design," that paints a resilient picture of California viticulture. 
The Santa Barbara wine industry began during the Mission era (1769 to 1833) and went on to survive such challenges as Prohibition, the Great Depression, and World War II. The region eventually entered the global stage with six federally-recognized "American Viticultural Areas" whose unique geographic and climatic features affect grape growth differently than other wine regions in the nation. Today, over 20,000 acres are used for winemaking in the county, with a mixture of large estate vineyards, small boutique wineries, and urban tasting rooms.
In recent decades, the industry has faced growing regulatory challenges, which navigate a struggle between estate and boutique winemakers, environmentalists, farmers, and civilians, each of whom has a stake in local land use.
"Santa Barbara was unique in finding a tentative balance," Dr. Geraci reflected, again noting the adaptive nature of the industry. 
He went on to highlight the most prominent example of this, citing the relatively recent development of urban wine tasting rooms that have helped support the industry while placating local landowners who don't want their rural roads flooded with visitors.
"They're not opposed to wine grapes, they're opposed to wineries and their events," he explains. "So winemakers would say, 'We can expand the vineyards, but we also need a way to sell those grapes.' This is why we see urban wine centers developing, like the Funk Zone, Los Olivos, and Lompoc Wine Ghetto, and that is a major change."
But where do Santa Barbara winemakers find themselves now amidst a pandemic? For a seasoned industry, this is brand new territory.
"When the last pandemic hit, we were in Prohibition," Dr. Geraci says, citing the 1918 flu pandemic. "I'm sure they'll find ways to adapt, but I'm reticent to be too optimistic. The biggest thing has been the urban wine tasting rooms. They are all dependent upon tourism, and many of these winemakers depend on tasting rooms. Without that human contact, I now worry about what will happen to them. The larger estates and commercial vineyards will be fine. So I'm worried about small wineries.
"There is a silver lining among the uncertainty, however. "They have always found a way around their problems," he states optimistically. "As for the light at the end of the tunnel, people won't stop drinking wine."
Dr. Geraci agreed this will be another trial in the legacy of California wine history, one that will cause significant changes to the viticulture landscape. For better or worse is yet to be seen, but one ideal remains constant: now more than ever is the time to preserve its historical journey. The Victor Geraci Viticulture Collection Endowment seeks to accomplish just that.