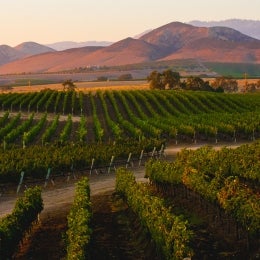 Santa Barbara County's wine business got a big boost in 2004 thanks to a little movie called Sideways but the region had been cultivating grapes long before Paul Giamatti sipped his way through the Santa Ynez Valley. The area's wine industry goes all the way back to the Mission era when priests and Presidio soldiers planted vineyards to make wine for sacramental and daily use.
The history of viticulture in Santa Barbara is ripe (pun intended) for scholarly exploration, and with the support of an endowment from food and wine historian Victor Geraci, a UCSB graduate who wrote his doctoral dissertation on Santa Barbara's wine business, UCSB Library aims to be the center of such research. Geraci has created an endowment to help build the Library's collection of print materials, photographs, oral histories, artifacts, wine labels, ephemera, and more related to the Santa Barbara County wine industry. 
The Victor Geraci Viticulture Collection Endowment is named for Geraci's father. His Sicilian father and Hispanic mother represent the early 20th-century laborers who worked the fields of California. "My grandfather and father were table-grape laborers and sharecroppers, so this is the best way to honor them," Geraci said. "Plus, I wanted to give back to the institution where I spent 5 1/2 years of my life."
Danelle Moon, director of UCSB Library's Special Research Collections (SRC), said the viticulture collecting initiative will "document the significance of this region as a major producer of wine, which includes the full range of the industry, from farm labor and agriculture to wine production, marketing, and tourism."
After the decimating effects of Prohibition, The Great Depression, and World War II the Santa Barbara wine industry grew to become an integral part of the California and global wine industry. Today Santa Barbara County has six federally recognized American Viticultural Areas (AVAs) that helped create a food and wine terroir as part of the nation's new wine culture.
Geraci, along with staying connected to his family's farming roots, has long documented the agricultural history of California. He earned a master's degree in history from San Diego State University with a thesis on the raisin industry of El Cajon, California and completed his doctorate in American history from UCSB in 1997. His dissertation topic was "Grape Growing to Vintibusiness: A History of the Santa Barbara, California, Regional Wine Industry, 1965-1995."
Geraci retired in 2013 from his position as the Associate Director and Food and Wine Specialist at UC Berkeley's Bancroft Library Oral History Center. Geraci now lives in Murrieta, California where he continues to research and write. His latest book is Making Slow Food Fast in California Cuisine. He hopes the endowment at UCSB Library can be used in part to digitize agricultural documents that will be available to scholars — or anyone interested in food and wine — around the world. According to Geraci, "UCSB could be a global resource for information about the wine industry on the Central Coast, or California in general."
The collecting initiative will also include oral histories. According to Moon, "one of the major goals of this initiative is to document the stories of Central Coast families from the 1960s to the present," including UCSB alumni. Some of these winemaking pioneers are in their 80s or 90s now. Geraci added, "If we don't get their stories now, we'll lose them."
Kristin Antelman, University Librarian, said the Library welcomes endowments such as Geraci's, that "allow the Library to commit to the long-term building and maintaining of collections that benefit the students and faculty of UCSB as well as the greater community."