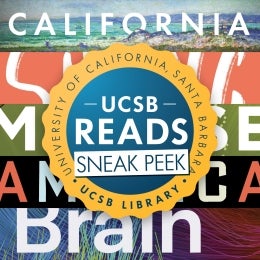 The UCSB Reads selection committee is pleased to announce its shortlist of titles under consideration for UCSB Reads 2024.
The titles explore diverse subjects ranging from neuroaesthetics, poverty, disability, animal senses, and California's natural and human history.
UCSB Reads is an award-winning campus-wide and community-wide "one book" program. The selection committee consists of UCSB faculty, staff, students, and community partners who convene to select an intellectually stimulating, interdisciplinary book by a living author that appeals to a wide range of readers and can be incorporated into the UCSB curriculum. The final pick will be announced in the fall.
The selections are (in alphabetical order):
Here are some suggestions for where you can find the books on the shortlist.
To share your input with the committee, vote for your top pick here by August 18. One survey participant will be chosen at random to receive a free copy of the final selected book.
Going into its 18th year, the UCSB Reads program will kick off at the beginning of winter quarter 2024 with a book giveaway and culminate in a public lecture with the author in the spring. A variety of free events will be held along the way to engage UCSB and the community at large around the book's themes.
If you are a UCSB faculty member who is interested in exploring teaching one of these titles in winter or spring 2024, please contact Alex Regan, Events & Exhibitions Librarian, at aregan@ucsb.edu. Your feedback will be taken into consideration for the final selection. 
If you would like to find out more about supporting the UCSB Reads program, please contact Heather Silva, Senior Director of Development, at heathersilva@ucsb.edu.