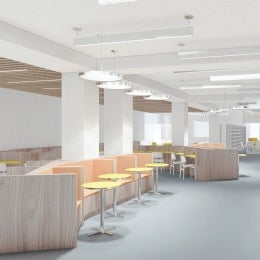 Project Will Combine Music and Art & Architecture Collections in Modernized Space in Main Library
UC Santa Barbara Library is planning a new Arts Library by bringing together the Music and Art & Architecture Collections into a modernized space in the main Library building. The project will bring together all library services under one roof for the first time since 1969.
As part of the project, the Music Library collection, services and staff will be moved from the Music Building to the main Library. The open stacks collection will be incorporated into the space on the 1st floor Mountain Side where the Art & Architecture Collection is currently housed. To accommodate the Music Library collections, and enable the future growth of print collections, high-density compact shelving will replace the current fixed shelving.
The space will be modified and updated to create an increased number of user spaces, including fixed and flexible study tables, four listening rooms and a media studio with state-of-the-art technology, a group study room, and a seminar room with a piano for instruction. The Arts Library will also contain exhibition space and lockers. 
The Music Library, currently located on the second floor of the Music Building, houses the majority of the Library's collections related to music. The collections emphasize music of the Western art traditions and diverse world cultures, particularly the vernacular and traditional music of Eastern Europe, India, the Middle East, and the United States, and incorporate books, scores, journals, videos, and sound recordings, including archived recordings of UCSB faculty and student recitals.
The Art & Architecture Collection includes publications on architecture, sculpture, drawing, painting, prints, decorative arts, artistic photography, and interdisciplinary works on the arts covering all cultures and time periods. Collection strengths include medieval illumination, Northern and Italian Renaissance art, American art and architecture, and Chinese painting and calligraphy.
When the Art & Architecture Collection moved to the main Library as part of the Addition and Renovation Project that was completed in January 2016, it left the Music Library as the only remaining branch library at UCSB. The new Arts Library will allow users of the Music Collection to benefit from the interdisciplinary possibilities that come with easier access to other Library collections and services. It will also allow the Library to take advantage of operational efficiencies that come with the consolidation of all collections and services under one roof.
The Arts Library project is funded through a private donation. During the construction phase, which is expected to begin by early 2024, the Music and Art & Architecture Collections will remain accessible as much as possible. The Music Collection will be inaccessible during a brief period of time while it is in transit from the Music Building to the main Library building. Some print materials in the Art & Architecture Collection will be relocated temporarily during construction. UCSB Library will give ample notice to users prior to any service or collection access changes. 
For more information, contact Alan Grosenheider, Deputy University Librarian.