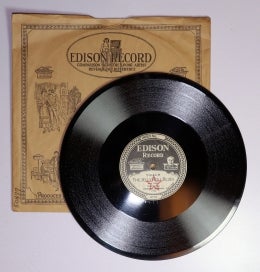 Thomas Edison National Historical Park (TENHP) released 2,400 historic Edison disc sound recordings, digitized and made available online in cooperation with the University of California, Santa Barbara Library Special Research Collections on the Discography of American Historical Recordings (DAHR) website at adp.library.ucsb.edu. The recordings from TENHP include many rarities, including unissued test pressings.
The disc records originate from phonograph inventor Thomas Edison's own collection preserved at TENHP and contain music recorded by Thomas A. Edison, Incorporated in New York City and European cities from 1910 through 1929.
"Edison discs document a fascinating era of performance and technology that is of interest to music historians and audiophiles still today," said Jerry Fabris, Museum Curator at TENHP.
"Sharing these historically important recordings with the public perfectly fits the mission of both the University of California and the National Park Service," said David Seubert, Curator of the Performing Arts Collection at UCSB, who heads the DAHR. "UCSB was pleased to be able to join in this important partnership to preserve our history."
The cooperative effort to make Edison disc recordings available to the public at no cost began in 2012 when TENHP shared its catalog database of Edison disc textual information with UCSB Library. TEHNP also shared copies of historic hand-written recording ledgers and studio cashbooks.
Using funding from the National Endowment for the Humanities, data from TENHP formed the basis from which researchers at UCSB Library developed the DAHR's complete online discography of Edison disc recordings. The DAHR documents more than 14,000 Edison recording sessions that resulted in more than 8,000 published two-sided discs. With the digitized audio recordings from TENHP, the DAHR now has a total of more than 7,400 Edison disc recordings available for listening.
--
 
The Discography of American Historical Recordings (DAHR) is a database of master recordings made by American record companies during the 78rpm era. It is part of the American Discography Project (ADP)—an initiative of the University of California, Santa Barbara and the Packard Humanities Institute that is edited by a team of researchers based at the UCSB Library. DAHR currently includes information on more than 327,000 master recordings (matrixes) made by Victor, Columbia, OKeh, Berliner, Edison, Zonophone, Leeds & Catlin, Brunswick, and Decca. The ADP is also a partner with the Library of Congress National Jukebox project and provides most of the cataloging data used in the Jukebox. As a result of this partnership, 11,000 recordings made by Victor and Columbia between 1900 and 1925 can be streamed online. An additional 35,000 masters from Columbia, Okeh, Zonophone and Edison are also available via UCSB's streaming player or embedded YouTube links. Visit DAHR online at https://adp.library.ucsb.edu/.
Thomas Edison National Historical Park is a National Park Service site dedicated to promoting an international understanding and appreciation of the life and extraordinary achievements of Thomas Alva Edison by preserving, protecting, and interpreting the Park's extensive historic artifact and archive collections at the Edison Laboratory Complex and Glenmont, the Edison family estate. The Visitor Center is located at 211 Main Street in West Orange, New Jersey. The Laboratory Complex, Glenmont Mansion, and its grounds are currently closed to the public and will reopen on March 12, 2022. Schools and organized groups may make reservations for virtual programming. Call 973-736-0550 ext. 26 Wednesday through Sunday for more information or visit the park's website at www.nps.gov/edis.
-- 
This announcement was originally published by the National Park Service. 
Photo: Edison disc record: "The Jelly Roll blues", performed by The Original Memphis Five, recorded in New York, New York on September 22, 1923. Credit: National Park Service