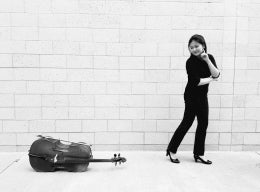 In a contentious political environment, it's comforting to know that some people prefer to argue about Bach.
Cellists from Pablo Casals to Yo-Yo Ma have interpreted and played Johann Sebastian Bach's six Cello Suites in very different ways, with music scholars analyzing and debating every nuance.
When UCSB student Joanna Hui, a cellist and Bach fan, earned a $750 grant to study Bach's Cello Suites, she turned to the UCSB Library and its extensive collection of music recordings to actually hear performances of the Suites by famed cellists.
"The Bach Cello Suites are the bible of solo cello pieces," Hui said. "People argue to this day how they should be interpreted."
Hui, a senior majoring in music studies with a western art emphasis, is writing her senior paper on performance practices of the Cello Suites. For an honors project, in May she plans to present a collaboration between the UCSB dance and music departments called "The Journey Bach," featuring a performance and discussion of the Cello Suites.
Hui, who transferred to UCSB in fall 2015, applied for and received a $750 Undergraduate Research in Creative Activities (UCRA) grant from UCSB to conduct her Bach research.
With the help of Kyra Folk-Farber, UCSB subject librarian for music, she found books that discuss and analyze different interpretations of the Cello Suites. David Seubert, Curator of the Performing Arts Collection at UCSB, pointed her to the Library's archive of LP and 78 rpm recordings.
As a transfer student, she said, "I did not know about the Library resources available before coming to UCSB. But Kyra was very approachable, and she was the first person I interacted with from the music department."
Seubert, she said, "showed me how to make requests and search for things in the wonderful music archives." Library staff digitized and emailed her the recordings she requested.
Using a software program called Sonic Visualiser, Hui manually tracked tempo fluctuations in the digital recordings, focusing on the Prelude to the Third Suite.
"I turned that data into a graph to see where performers take liberties with tempo," she said. "I've seen so far that the maestro cellists follow similar-shaped patterns where they take tempo liberties."
The goal of her project, however, "is not to come up with a suggested interpretation," she said, "but to explore how to be more open about it. Nobody hundreds of years ago, for example, could foresee what modern-day instruments can do. That opens up a window for interpretation."
Hui is also collaborating with other cellists on campus, she said, "mapping out their interpretations measure by measure, and reading books on performance practice, music and cognition."
The oldest recording of the Suites Hui found at the Library was by Casals, from the 1930s. She also listened to recordings by Paul Tortelier, Mstislav Rostropovich and many others.
"I even found a few 7-inch reels of recordings from music festivals," she said.
Hui plans to attend graduate school at UC Irvine, where she will study musicology. Eventually she wants to earn a Ph.D. in the field.
Hui said she's interested in "musicology and public engagement, and bridging the gap between audience members and performers."
"This project and the Library research really helped me with my graduate school applications," she said. "Research opportunities liberate you and allow you to think individually beyond the standard curriculum."
Hui also works as an archival recordings assistant in Special Research Collections.
"I wouldn't have known about that position had I not used the Library's Special Research Collections," she said.