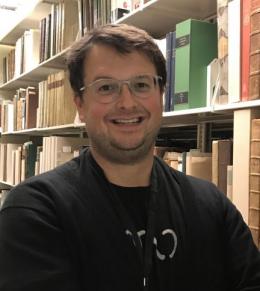 UCSB Library is pleased to introduce a new "Student Assistant Spotlight Series," posts written by our student employees that highlight the types of projects they work on. Our inaugural post is written by Wyatt Young, a fourth-year undergraduate majoring in History with a minor in the History of Art & Architecture. Wyatt has been working in Special Research Collections as a Processing Assistant for the past year. His areas of interest are public history, museum studies, twentieth-century U.S. culture, and the historiography of collections. Wyatt is currently writing an honors thesis investigating the Grateful Dead Archive Online as well as the physical Grateful Dead Archive housed at UC Santa Cruz. He is a transfer student from Seattle Central College, and is originally from Georgia. Wyatt was recently accepted into the History Ph.D program at UC Santa Cruz with a fellowship. Wyatt's post details his work processing newly-acquired trade and advertising literature.
Special Research Collections (SRC) provides scholars with access to unique primary sources, and the breadth of materials we house can be both informative and compelling, which means I come across some interesting materials in my daily work. The Early Twentieth Century Advertising Ephemera and Trade Literature Collection (Mss 327) is one example, and I had a great time investigating and preserving items in this collection. Included are historical and instructional pamphlets on home decorating, recipes, California vineyards establishment, floral arrangement techniques, sewing pattern catalogues, a cinema house program, a color wheel for coordination of outfits based on hair and skin complexion, a turn-of-the-century French wine list, and a vacation brochure for then-named Boulder Dam. Other items include a voting pamphlet put out by the petroleum industry, a magazine on World War II cameras, and Lucky Strike Tobacco party favors. This collection provides insight into early twentieth-century visual culture, advertising, and concepts of consumerism and consumption. This newly-acquired collection complements SRC's growing trade and advertising collections, like the Lawrence B Romaine Trade Catalog Collection and Type Specimens Collection. Here I am going to offer some highlights of the collection and a little insight into what it means to process a collection.
Collections come to Special Research Collections in several ways. Most are acquired when someone donates them, or we purchase them based upon a criteria of their uniqueness and research value. They can consist of a variety of materials: files, papers, posters, artwork, decorations, films, books, and digital content. Our collections here can contain almost anything of historical significance! After the collections arrive, the materials are processed by Archivists and Student Assistants. To process means we first take an inventory of the collection. After we create an inventory, we begin to organize the materials, usually by subject, date, or physical format. For instance, say a retired UCSB professor donates their career-spanning papers of research and manuscripts to Special Research Collections, and all of their files are labelled by topic. We would record the contents of each file, and sort them alphabetically by topic. If we received a collection of Civil War letters, we would record the dates on the letters or envelopes, and sort them chronologically and then by author and recipient, if we can discern them. This is an important point because sometimes we receive handwritten letters or manuscripts, and are unable to clearly pinpoint an author. After we uncover as much information as possible, these items are rehoused into archival folders and boxes and stored in our climate-controlled vaults. Once the collections are processed, we create a finding aid that lists the contents and context of each collection, so that when people come to conduct research, they can request specific elements of the collection. But how do we know what information to include in these finding aids?
This brings us to the part of the processing job I enjoy most. Sometimes we receive unfamiliar items and we need to investigate their historical significance. For example, in a collection we received recently from Don Hill, a renowned anthropologist and ethnomusicologist from New York, I found these neat magic lantern slides from the early twentieth century. At first glance I didn't know what they were, but thanks to some research, I was able to determine their function and provenance. Magic lanterns were a popular type of projector that cast images onto screens by shining light through glass slides and were used mostly for entertainment. Stories and narratives were told through this method and were often accompanied by live music. They were first developed as early as the seventeenth century, and were even incorporated into the acts of magicians and illusionists by projecting images of demons onto smoke and terrifying the viewers! Magic lanterns remained popular until the advancement of cinema, and were succeeded by slide projectors in modern times. In fact, the name of our own IV Arts Magic Lantern Films was inspired by these devices. So now that we have an idea of what it means to process and research collections, let's look at some of the interesting items in the Early Twentieth Century Advertising Ephemera and Trade Literature Collection.
The first item in this collection that interested me appeared to be an ordinary wine list from an early twentieth-century Parisian restaurant, but after a little research, the restaurant became more historically significant. The name of the restaurant was the first signal that this was something unique: "Pavillon Chinois Restaurant," a Chinese restaurant in Paris. I discovered that the restaurant was located near the Bois de Boulogne Park, which was constructed by Napoleon III, Emperor of the Second French Empire. The restaurant dated back to the 1878 Paris World's Fair, when a large number of ethnic restaurants were established to provide visitors to the exposition with culturally-diverse cuisine. The menu was remarkable, as all of the wines contained vintages exclusively from the 1800s. This item is significant because it provides insight into viticulture as well as the history of France's oldest wineries. Paired with a 1910 pamphlet from the Korbel Champagne Cellars in Sonoma County (also in this collection), this wine list could assist those wishing to research how French wine techniques made their way to California. While initially these objects can seem mundane, with a little observation and research, we can gain a lot of information from them.
Another item that upon first glance seemed ordinary is a brochure published by the Union Pacific Railroad. This 1940s brochure was intended to entice tourists to visit the Boulder Dam in the Black Canyon of the Colorado River in Nevada. Most of us now know this dam by its current name—the Hoover Dam—but the naming of the dam was convoluted and controversial. During the initial building ceremony, the dam was named for then President Herbert Hoover, but after his defeat to Franklin D. Roosevelt in the 1932 election, it was referred to under both names. You can see how this would be problematic, especially if you were attempting to attract visitors from around the country to a place that did not have a marketable name. The name Boulder Dam never fully took hold, and was officially renamed in 1947 as the Hoover Dam. This brochure serves as an example of just how complicated and interesting a simple act such as the naming of a place can be.
The Early Twentieth Century Advertising Ephemera and Trade Literature Collection contains a wealth of interesting history and methods of advertisement, and can be of great use to scholars of twentieth century culture. It shows that history is all around us, and can be found in even the most ubiquitous everyday objects. My job is to put these items into historical context and ensure their preservation and access for years to come. Besides this small collection, we house a multitude of collections that people come from around the world to visit for the purpose of analyzing history. We invite all of you to visit us and to see what we have to offer for your own research and studies. Chances are we have something of value to offer you in your particular fields of interest. So if you've never visited Special Research Collections on the Third Floor Mountain Side of the Library, come by and check out all of our cool stuff!