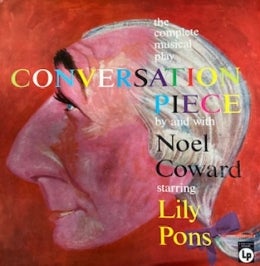 Over the years, and under the leadership of curator David Seubert, the UC Santa Barbara Library Performing Arts Collection has grown to become one of the most notable collections of its kind, containing over 300,000 historical sound recordings and over 150 archival collections.
The collection is extraordinarily diverse in its materials, which consists of manuscripts, letters, photographs, scrapbooks, artwork, and other primary source documents that document and support research in the performing arts, including music, theater, dance, broadcast media (film/television/radio), and the circus.
It is this nationally renowned reputation of the collection that drew collector Richard Norton to the UCSB Library. Norton, a long-time theatre producer and self-taught musical theatre historian, has spent the majority of his life collecting 78 RPMS, LPs, CDs, musical scores, playbills, typescripts sheet music, posters, and other materials that relate to the history of American musical theatre. Curious and methodical by nature, Norton also wrote a three-volume and nearly 3000-page Chronology of American Musical Theatre published by the Oxford University Press and is currently finishing a biography of Frederick Loewe for publication.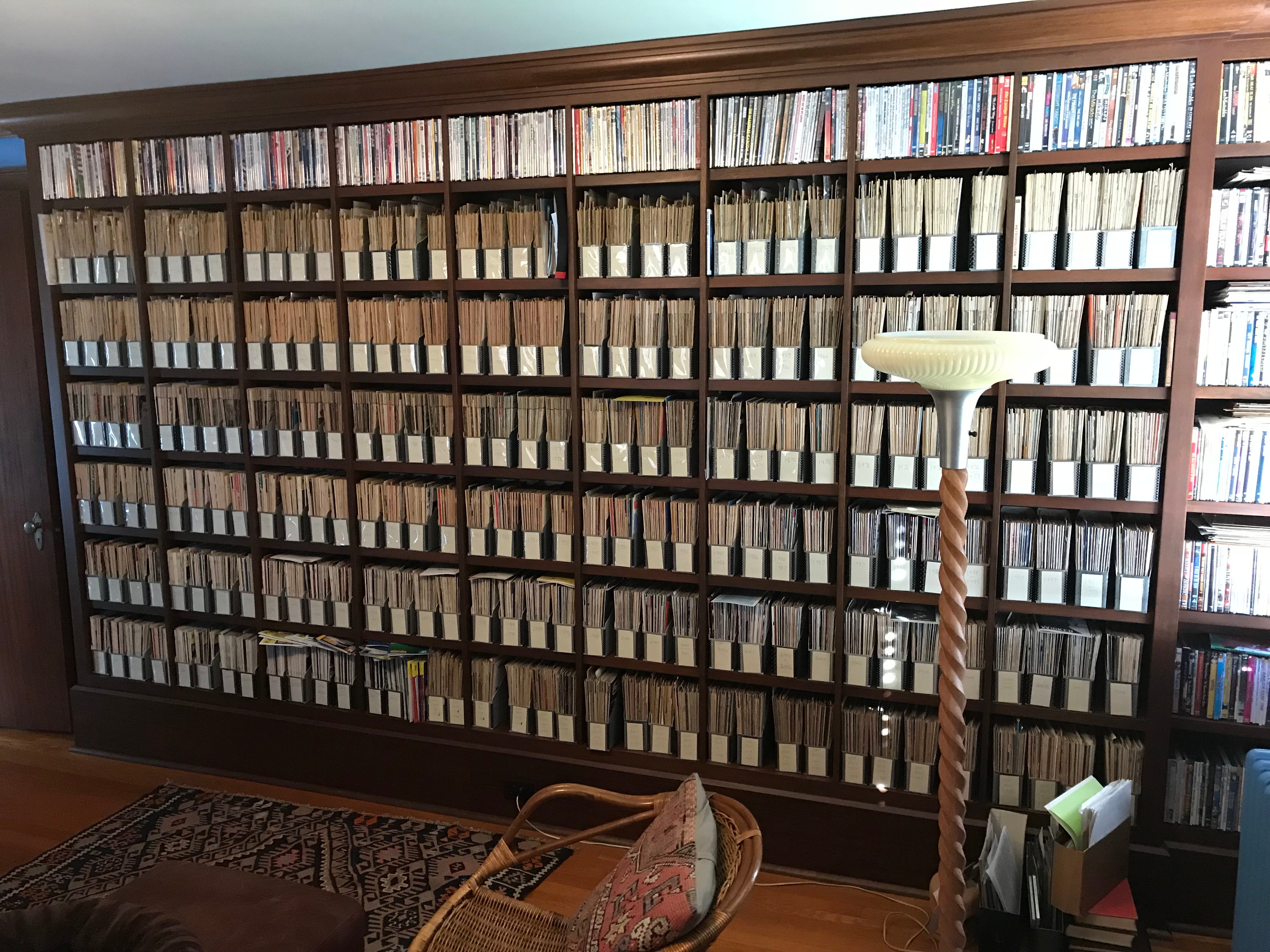 Norton's American musical theatre collection (a portion of which is pictured above) is widely regarded as one of the most comprehensive and thorough collections of its kind. To give a sense of scale, it includes more than 15,000 78rpm discs; 20,000 more 33rpm (12" and 10") and 45rpm discs (7"); approximately 800 unpublished musical theatre typescripts; 150,000 musical theatre programs/playbills; 35,000 musical theatre sheet music; and 2,000 musical theatre reference books, all representing regional, national and international productions.
And now, due to the generosity of Norton, UCSB will be the home to his extensive musical theatre 78 RPMs, LPs, and playbill collection among other items, significantly adding to the prestige and research potential of the UCSB Library Performing Arts Collection and to the current use holdings of the Library's Music Collection at large. 
We asked Richard a few questions about his history as a collector and what it means to spend a lifetime immersing oneself in a field of study:
What compelled you to start collecting? What was the first piece (or collection) you acquired and when?
I first became interested in musical theatre between the ages of 6-12 (1959-1965). I grew up in downtown Boston, though my family had left Los Angeles in 1956. My dad, a mechanical engineer, devised a turntable that played up to six LPs, flipping them over in sequence with speakers in every room! Those LPs were Original Broadway Cast Albums to South Pacific, The King and I, West Side Story, My Fair Lady, Oklahoma! and The Sound of Music. I devoured the liner notes, learned every song lyric, all of which inspired me to buy more with my own allowance like Pal Joey, Finian's Rainbow, and Kiss Me Kate. 
Boston then was a great tryout town, testing new musicals on their way to New York. So I saw many Broadway-bound musicals: Mary Martin in Jennie (1963), Robert Preston in Ben Franklin in Paris (1964), Liza Minnelli in Flora and the Red Menace (1965), Angela Lansbury in Mame (1966). Especially instructive were the Harold Prince-directed musicals, i.e Cabaret (1966) and Zorba (1968), and those by Stephen Sondheim, Do I Hear a Waltz? (1965), Company (1970), Follies (1971), A Little Night Music (1973), and Pacific Overtures (1976). 
At first, I just collected playbills, original cast albums, books and posters, newspaper clippings, and my interest and curiosity expanded exponentially. My fascination with musical theatre ran counter to my peers' interest in rock 'n' roll. In hindsight, I rebelled against the rebels! My first theatrical poster/window card was Ballad for a Firing Squad (1968), and my first cast album on 12" 78rpms was Top Banana (1950) with Phil Silvers, a rarity in 1965.
What do you consider the "gems" of your collection?
Mine has always been a "working" collection, whose sheer size, expanse, and complexity offered me an abundant opportunity for musical theatre history research and serendipitous listening discovery. When working on any project, I start with my own collection before turning to outside sources, friends, research libraries, the internet...but hesitate to name any "gems." Acetate demonstration recordings (demos) from the 1950-60s are both fragile and pressed in small quantities. Posters from musicals with early artwork cast changes and short runs [are rare as are] sheet music in manuscript form. [Other rare materials include] early version typescripts for Hello, Dolly!, Fiddler on the Roof, Look Ma I'm Dancin', and Lolita, My Love.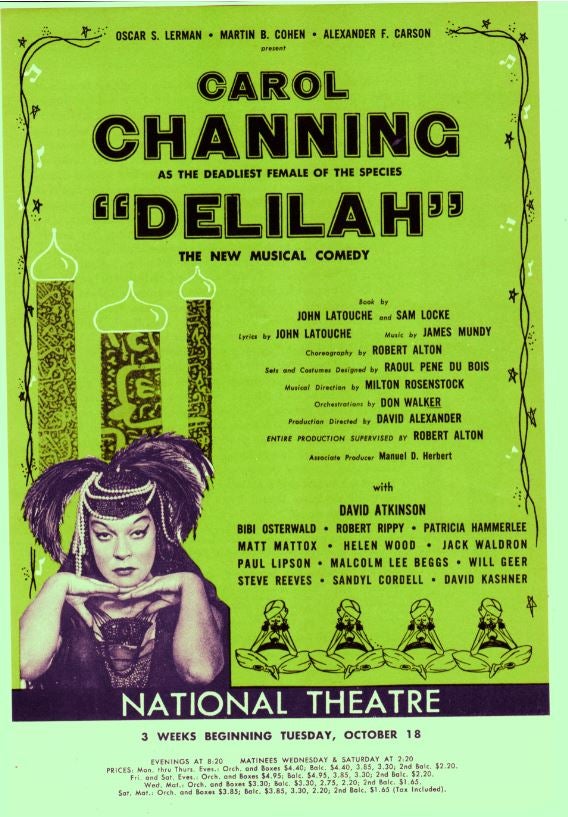 Whatever rarities there are in my collection include unpublished typescripts and librettos to musicals, hard-to-find playbills from all around the world, one-of-a-kind live recordings on cassette and compact disc, thousands of 78rpms-45rpms-33rpm, most not available digitally or on compact disc, rare posters from British and American musicals 1940s-present. Theatrical sheet music from 1880-2000, English, American, German and French.
I have often looked for rarity, obscurity, surprise in all languages and cultures. Rodgers & Hammerstein's Oklahoma! sung in Japanese and German, countries the U.S. was at war with when Oklahoma! first opened in 1943. Julian Slade's bucolic British fantasy Free as Air later sung in Dutch. Irma la Douce in every imaginable language, Finian's Rainbow in Czech on CD, Ernest in Love performed in Japanese on DVD, Porgy and Bess sung in Swedish on LP.  
Twenty years ago I discovered a British tryout programme to Richard Rodgers & Lorenz Hart's By Jupiter starring Bobby Howes from Liverpool and Manchester from 1944, sadly omitted from the otherwise infallible Rodgers and Hammerstein Fact Book. I didn't know this existed, and often the challenge is to determine the date and authenticity of a rare item. Or a Philadelphia poster for the Broadway-bound revue Pleasure Dome starring Kaye Ballard, Josephine Premice, Jimmie Komack dating to 1955, which collapsed in rehearsal. 
What do you enjoy the most about being a collector of musical theatre materials? 
Collecting inspires my curiosity, and the research has often proved rewarding. Impossible to say, but the thrill of discovery and the unexpected is always just around the corner. Hearing the score to Paul Abraham's Ball at the Savoy (1933) for the first time, assembling its extant recordings in English and in German, seeing it at Berlin's Komische Oper. Seeing and hearing Frank Loesser's Pleasure & Palaces (1965) for the first time at the Lyric Stage, Irving, Texas, in 2013. Discovering Kurt Weill & Ira Gershwin's The Firebrand of Florence (1945) in new stagings, concert form, and recordings. 
How do you envision the collection being used in the future as part of the UCSB Library's Special Research Collection? 
It is my hope that my musical theatre collections will complement what already exists at UCSB. Their Special Collections of Recorded Sound correlate well with the recordings, programs, sheet music, posters, librettos from my own collections. Bound by my age to an earlier generation accustomed to examining the original item (fragile paper) or barely legible microfilm, I have confidence in UCSB's ability to make available rare materials to generations next to come.
Imagine my pleasure and surprise just today while researching the 1924 Broadway revue Keep Kool by Jack Frost and Paul Gerard Smith, this brought me to UCSB Library's Special Research Collections. The only extant period recording of any song from the show, "How You Gonna Keep Kool," performed by the Georgia Melodians, is available to listen on-line at UCSB via the Discography of American Historical Recordings.
PHOTOS:
A snapshot of a portion of Norton's collection in his home

First page of Nunnally Johnson's typescript for Holly Golightly, the musical version of Breakfast at Tiffany's (1966). Johnson was replaced by Abe Burrows and finally Edward Albee before the production abruptly closed in New York previews.

Flyer for Delilah, Washington DC tryout (October 1955) for the musical comedy The Vamp starring Carol Channing