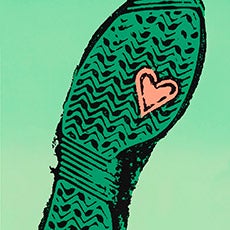 UC Santa Barbara Library is pleased to announce that the Pacific Pride Foundation has agreed to donate their historical archives to UCSB Library.
The donation by the Pacific Pride Foundation will serve as the cornerstone of the Library's Special Research Collections LGBTQ+ archive. Since its founding in 1976, the Pacific Pride Foundation (PPF) has played a critical role in the lives of people living with HIV/AIDS and the LGBTQ+ community, both in Santa Barbara County and the coastal communities of California between Los Angeles and San Francisco.
"There is a rich, powerful, and emotional history of the LGBTQ+ movement in Santa Barbara County," said Colette Schabram, Executive Director of PPF. "The Pacific Pride Foundation has been instrumental in the fight against HIV/AIDS, in the struggle for marriage equality, and a leader in dignity and equality for lesbian, gay, bisexual, transgender, and queer people in our community for over 40 years."
PPF's organizational files document the activities of the foundation over the years, including board minutes, correspondence, and reports, but especially sponsored community events such as the Aids Walk, Pride at the Beach, Safe Saturday Night, and Waiters Dinner. Complementing the files are photographs and scrapbooks, audiovisual materials, posters, artifacts, and a run of the Pacific Pride Foundation Bulletin from 1997 to 2002.
"This partnership helps preserve the work of so many who have come before, and will help tell future stories of what is yet to come," said Schabram.
The materials will be preserved and made available to the public for research in UCSB Library's Special Research Collections, a state-of-the-art facility for the preservation and digitization of rare and unique historical collections. By collecting and sharing these materials the Library will ensure that future generations are able to access, research, and study the gay rights movement in Santa Barbara County and the impact PPF had on the LGBTQ+ community and the community at large. Items can be found in the Library's Santa Barbara History Collection or visiting www.library.ucsb.edu/pacificpridefoundation.
"UCSB is thrilled to serve as the archival home for the Pacific Pride Foundation, and it is our hope that this new collaboration will uncover materials that will provide a greater understanding of the Santa Barbara LGBTQ+ community and their important contributions to this region," said Danelle Moon, Director of UCSB Library's Special Research Collections.
The UCSB Library and PPF are still seeking additional materials related to the history of Santa Barbara County's LGBTQ+ community. If you are in possession of records that document the activities of the Pacific Pride Foundation, please contact UCSB Library Archiving Processing Specialist Zak Liebhaber (zdlieb@ucsb.edu). Records of interest include press clippings, newsletters, scrapbooks, board minutes, administrative files, correspondence, event and subject files, audiovisual material, and photographs.