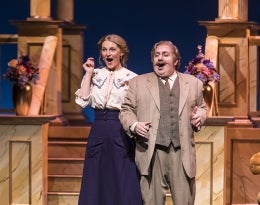 In an unprecedented collaboration, the UC Santa Barbara Library and UCSB Opera Theatre will present the American premiere of a work by a proven master of music and theater.
Both performances of the operetta — which was selected from the library's Michael and Nan Miller Operetta Archive — will be performed in English by graduate and undergraduate students from the award-winning opera theatre program.
A comedy with a decidedly feminist slant, it promises to resonate strongly in the #MeToo era, as it portrays the conflicted emotions of independent-minded women navigating a male-dominated world.
Also of note: It was written in 1904.
The work is "The Mock Marriage," an operetta by Franz Lehár. Just one year after its world premiere in Vienna, the composer would pen his masterpiece, "The Merry Widow," which is still performed all over the world.
Excerpted from an article by Tom Jacobs which appears in full in UCSB's The Current.