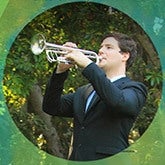 The Music Academy of the West and the UCSB Library have renewed a partnership to preserve and digitize the Academy's archive of open reel tapes and transfer the organization's paper archives to the UCSB Library, where they will be available for research, teaching, and personal enjoyment. Located in nearby Montecito, the Music Academy of the West has been developing "the next generation of great classically trained musicians" through its summer conservatory program and festival since 1947.
In fact, the Music Academy and the UCSB Library have intersecting histories. Legendary soprano Lotte Lehmann, one of the founders of the Music Academy, also served as a longtime leader and supporter of the Friends of UCSB Library.
"UCSB Library is an international leader in historic sound preservation and digitization," said Denise Stephens, University Librarian, "and we are honored that the Music Academy of the West is entrusting their archives to us so we can ensure their accessibility for future generations of scholars, teachers, performers, and the greater community."
The Music Academy's recordings of concerts, recitals, and masterclasses from 1961-2001 have been housed in the UCSB Library's Department of Special Research Collections and available for public research access since 2007. Four hundred of the earliest and most fragile recordings will now be digitized for their 70th anniversary, including special performances by Lotte Lehmann, Marilyn Horne, and Jerome Lowenthal. The Music Academy will be releasing select recordings on their new website launching this spring and through social media.
"The Music Academy is delighted to partner with UCSB Library to preserve the written and musical archives we have compiled over seven transformative decades," said Scott Reed, President and CEO of Music Academy of the West. "The opportunity for us to align with a team with such tremendous expertise is an enormous opportunity and one that has fortuitously arrived as we celebrate our 70th anniversary."
The Music Academy of the West's archives join UCSB Library's robust collections in the performing arts, including the Lehmann Collection, which contains letters, scrapbooks, manuscripts, photographs, video cassettes, art works, and sound recordings relating to the life and career of Lotte Lehmann.
Stay tuned for more information about a UCSB Library exhibition and event in celebration of the Music Academy's 70th anniversary season, which will take place June 12-August 5, 2017.