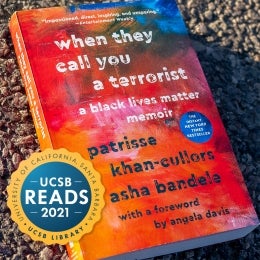 Want to meet other Gauchos who care about racial justice?
UCSB Library is organizing student-led small group reading discussions for UCSB students to dive into the UCSB Reads 2021 book When They Call You A Terrorist: A Black Lives Matter Memoir by Patrisse Cullors and asha bandele. 
These groups will be opportunities for social and intellectual connections with other UCSB students outside of the classroom. Each group will meet two times for approximately one hour with the same peers and student discussion leader.
Free copies of the book will be provided to everyone who participates in the reading discussions.
Sign up for a discussion group. These groups will begin meeting in late winter and early spring quarter. 
When They Call You a Terrorist: A Black Lives Matter Memoir is a powerful memoir by the co-founder of the Black Lives Matter movement, which began in 2013 after the acquittal of the man who fatally shot Trayvon Martin, an unarmed 17-year-old high school student. 
The memoir describes Cullors' experience as a Black, queer woman in the United States, who was raised in Los Angeles by a single mother. She recounts her experiences with racism in the criminal justice system, as well as the origins of the movement for racial justice that inspired an unprecedented number of protests across the country after the death of George Floyd. The book powerfully demonstrates the connection between history, lived experience, and the necessity for present-day activism.