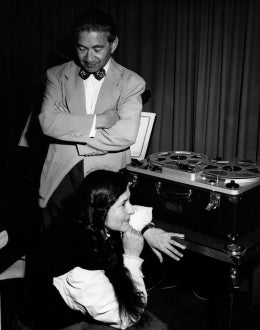 "Miraculous little machines," wrote Henri Temianka in his 1968 essay for The Instrumentalist titled "In Praise of Tape Recorders." The virtuoso violinist, conductor, teacher, author, and founder of the Paganini Quartet and California Chamber Symphony extolled the devices for their myriad uses: to record lessons, to listen back to (and thus improve) playing, to serve as an ever-ready piano accompaniment, and more.
"I can think of no better investment," he wrote.
Now, the late Temianka, who taught at UCSB from 1960–64, will be associated with a much more technologically sophisticated recording entity. Thanks to a donation from Temianka's son, Daniel Temianka, and Daniel's wife, Zeinab Dabbah, the UCSB Library has established the Henri Temianka Audio Preservation Laboratory.
The lab, in the Library's Special Research Collections, consists of two studios filled with high-tech equipment to preserve, listen to, and digitize rare recordings for use by researchers, faculty, students, and the community, at UCSB and beyond.
"To preserve and digitize music, and make it available for anyone who is interested, is a vision the Library and I share," Daniel Temianka said.
Throughout the late 19th and 20th centuries, recordings were made in audio formats — cylinders, cassette tapes, mini discs, 78s, open reel tape, Dictabelts — that all are essentially obsolete.
"Now everything is completely digital, so there's all this incredible content trapped in older formats," said UCSB Librarian David Seubert, curator of the Library's Performing Arts Collection. "UCSB Library has developed the expertise and assembled the equipment to play and share it."
Daniel Temianka, a retired physician who lives in Pasadena, is on a determined and loving mission to preserve his father's legacy. In addition to compiling Henri Temianka's writings into books, he has worked to transfer his father's prodigious recorded output from magnetic tape — live concerts, rehearsals, and other noncommercial performances — onto CDs and other accessible digital formats.
That quest led Temianka to the UCSB Library.
Temianka met Seubert about five years ago through efforts to transcribe recordings he found in the basement of his parents' L.A. home after his mother, Emmy, died in 2014 (Henri Temianka died in 1992 at age 85).
At the time, Temianka was already collaborating with a colleague of Seubert's, John Haley, an audio restorer and member of the Association for Recorded Sound Collections, to restore and release another trove of his father's recordings.
The tapes were housed at UCLA, but noting UCSB's audio preservation program Temianka approached Seubert to look at the project. Seubert contacted UCLA with a proposal: Send the tapes to the UCSB Library for digitization so they could be preserved and made accessible.
Impressed with the Library's overall efforts to collect and digitize rare recordings, Temianka began donating to the Library's audio preservation program.
He described the Library's efforts as "visionary and thoughtful," going beyond the work of digitizing audio of his father's performances.
The Henri Temianka Audio Preservation Laboratory, he said, "is not directly related to my father's music, but is something my dad would have approved of and been interested in. Many of the recordings in the Library's collection feature opera, for example, and my dad was a great fan of opera."
Kristin Antelman, University Librarian, said the Library welcomes endowments and naming opportunities such as Dr. Temianka's because they "allow the Library to commit to the long-term building and maintenance of key programs and collections that benefit the students and faculty of UCSB as well as the greater community."
Henri Temianka had an extraordinary musical life but is perhaps not as well-known as other violinists and conductors of his time.
Born in Scotland to Jewish-Polish parents, he then moved with his family to Belgium and Holland. He studied violin in Rotterdam, Berlin, and Paris, and at the Curtis Institute of Music in Philadelphia where he became one of its first graduates.
During his lifetime he performed more than 3,000 concerts in 30 countries. He founded the Paganini Quartet in 1946, so named because the members' instruments, made by Antonio Stradivari, were once owned by violinist and composer Niccolò Paganini. The quartet disbanded in 1966, but the instruments have stayed together, played by members of other quartets over the years, including the Tokyo String Quartet and Quartetto di Cremona.
Temianka started the California Chamber Symphony, based at UCLA's Royce Hall, in 1960.
In addition to his musical prowess, Henri Temianka spoke four languages. During World War II he helped his parents escape from a Nazi concentration camp in France, then helped them get from Spain to the U.S.
He taught at numerous colleges and universities, including UCSB, and presented many concerts for young people.
Temianka and Dabbah's support, Seubert said, will help the Library purchase new equipment and staff short- or long-term projects to digitize audio collections.
"A lab is not just equipment; it requires people with expertise who use and run it," Seubert said.
Daniel Temianka recalled a recent visit to UCSB to visit the audio laboratory.
"I remember vividly listening to two piano recordings by Louis Spohr and Ferruccio Busoni" that had been digitized by the UCSB Library staff, he said. "We stood transfixed as if Spohr and Busoni were in the room playing for us. It was magic. My dad would have adored that."
(Image: Henri Temianka and Lili Krauss audition a recording of their Beethoven sonata performance, ca. 1947.)