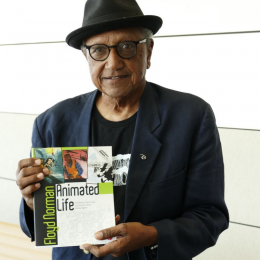 Floyd Norman - who made history in 1956 by becoming the first African American cartoon animator at Disney Studios - delivered the first installment of his papers to the UC Santa Barbara Library on Sept. 16, which includes mid-1960s 16 mm films, animation materials, cartoon collections, and audio interviews. The materials will be digitized for public use. 
Born and raised in Santa Barbara, Floyd Norman is a motion picture film animator, writer, comic book artist, and producer. Aside from having a long-time career at Walt Disney Animation Studios, he has worked at some of the top animation companies including Hanna-Barbera Productions and Pixar. 
"For us at the UCSB Library, this is a great beginning and we look forward to future collaborations on campus involving Floyd and his papers," said Sal Güereña, Director of the California Ethnic and Multicultural Archives in the UCSB Library's Special Research Collections. "Floyd Norman is part of the fabric of our social and cultural history, our local community history, and our ethnic and multicultural community history. We are honored to have his collection here at UCSB."
The Floyd Norman papers will support a wide range of interests in film studies and mass media studies, popular culture studies, Black Studies, comparative ethnic studies, Santa Barbara local history, and even migration studies. 
"The acquisition of the materials in this collection will augment the reputation of UCSB as a locus of generative interdisciplinary scholarship, as a site where the diverse cultures of California are honored and studied, and as an institution where faculty and student researchers can draw on rich archival resources in formulating and executing their projects," said Prof. George Lipsitz of UCSB's Black Studies Department.
Though all of Norman's final sketches are archived by Disney, the beginning sketches he provided as part of this installment are typically thrown out and are rarely seen by others. 
"This allows young people and scholars to get a sense of the tactics, inspiration, and creative process of the artist," said Prof. Anna Everett of UCSB's Film and Media Studies Department. "The finished product doesn't always tell you about the path toward that project."
Norman has been widely recognized, including being named a Disney Legend, a designation that honors individuals who have made extraordinary contributions to the Walt Disney Company. He is a member of the Black Filmmaker Hall of Fame and received Comic-Con International's Inkpot Award. Norman is the subject of the documentary film, An Animated Life, which examines his life as the first African-American artist to work at Disney.
Among the productions he has been involved in are Sleeping Beauty, The Jungle Book, Mary Poppins, Toy Story 2, and Monsters, Inc. He founded his own production company, Vignette Films, Inc. that produced Black history films for high schools.
When asked why he chose to give these materials to UCSB, Norman said, "In many ways, I was shaped by Santa Barbara. This community had a huge effect on me."
He attributes part of his success to the population of writers, musicians, film composers, and others in the entertainment industry who reside in Santa Barbara. "Show business was always encouraged," Norman said. "I was never talked out of it."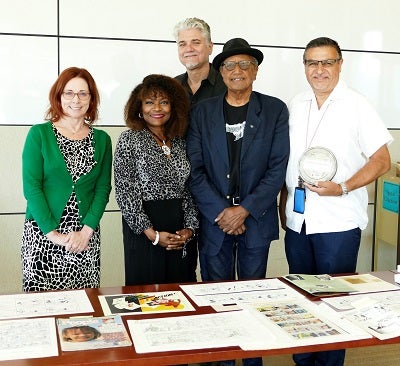 (From left to right: Danelle Moon, Director, UCSB Library Special Research Collections; Anna Everett, Professor, Film & Media Studies; Graham Barnard, a friend of Floyd; Floyd Norman; Sal Güereña, Director, California Ethnic and Multicultural Archives, UCSB Library Special Research Collections)