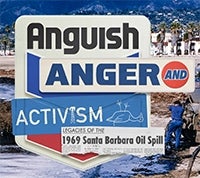 In the UC Santa Barbara Library, two exhibits will revisit the spill — one in-depth, the other through art. The first, "Anguish, Anger and Activism: Legacies of the 1969 Santa Barbara Oil Spill," will run Monday, Jan. 28, through Sunday, June 16, in the library's Special Research Collections (Mountain Side, third floor). There will be a talk and reception with environmental activist Marc McGinnes on opening day from 5 to 7 p.m. It is free and open to the public.
Curated by UC Santa Barbara librarians Kristen LaBonte and Annie Platoff, the exhibit will examine the connections between the historic disaster and environmental activism in the local area. LaBonte said the exhibit tells the story of the spill, cleanup efforts, effects on wildlife, local activism, progress through public policy, the birth of Earth Day a year later and more.
The items on exhibit reflect an exhaustive search of Special Research Collections and the Online Archive of California, LaBonte noted.
"So much activism came directly out of the spill and it needed to be highlighted and celebrated," LaBonte said. "Annie Platoff did an incredible job visualizing what each case or area of the exhibit could highlight and it provided a framework for finding additional objects. Once we had the full scope of materials, we decided to tell the narrative in the voices of individuals that had been interviewed about the oil spill by the Pacific Standard Magazine and the Los Angeles Times. Along the way, a number of UCSB Library staff supported the process with digitization, creation of artwork and sharing their intimate knowledge of the collections with us.
 "We hope that visitors will gain a sense of what it felt like to be here 50 years ago in the midst of the disaster," she added, "but also feel hope about what came after the spill. We want to inspire people to continue the fight for our environment."
A companion exhibit, "Oil Slick" by Rose Briccetti, will be on display concurrently in the library's Ocean Gallery. The exhibit collects and collages images of consumer goods with the popular iridescent finish known as "oil slick."
"It's a work that explores themes of consumerism, our continued addiction to oil and beauty in tragedy," LaBonte said.
Excerpted from an article by Jim Logan which appears in full in UCSB's The Current.