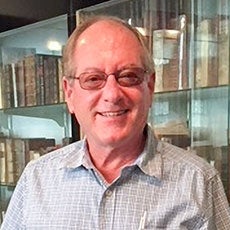 As a history major at UCSB in the 1960s, Kenneth Karmiole liked to hang out in used bookstores.
He often found scholarly books from the 19th century that sold for $1, and wondered why they weren't worth more. To learn about the academic book business, he sought out UCSB Library's head of collections for advice, and ended up spending a lot of time at the Library.
Back then, his first big find as a book trader, Karmiole said, was a stash of scholarly books on Peru purchased at a Santa Barbara garage sale. He bought the entire collection — plus the bookcases they were shelved on — for $16.
Now an independent antiquarian bookseller in Santa Monica, specializing in scholarly books printed before 1800, Karmiole is still helping the Library build and share its collection of rare materials. He previously created an endowment fund for the Library to purchase rare books, and has now established a second one: the Kenneth Karmiole Endowed Research Fellowship, which will support scholars working with primary resource materials and rare books in the Library's Special Research Collections.
After graduating from UCSB, Karmiole served as a Peace Corps volunteer and thought about attending law school, but someone suggested that because he liked books, he might consider a master's degree in library science, which he went on to earn at UCLA.
"I figured that whatever I did with books, whether in special collections or rare book librarianship or in trade, it would be helpful to have the degree," Karmiole said. "Because I really like buying and selling, I gravitated toward the trade."
Karmiole is also a generous donor to his other UC alma mater; he's created several library endowments at UCLA, including one for a lecture series on the history of the book trade and another for an annual lecture or conference on archival studies.
Karmiole created the endowments at UCSB and UCLA because he is interested in library scholarship and research, he said, and wanted to make financial contributions while he was still alive.
The newly endowed fellowship can be used for research on any subject. Fellows will give presentations on their research at the end of their residency at the Library.
Alan Grosenheider, Acting University Librarian, said the fellowship will "provide opportunities for scholars to use our Special Research Collections from a fresh perspective and share their discoveries with the campus community, sparking different approaches or opening new intellectual terrain to explore. I have deep appreciation for Ken's continued support of the Library and his belief in us and our mission to empower 'a lifetime of research, discovery and learning.'" 
Danelle Moon, director of Special Research Collections, said the endowment "will advance the reputation of the Library's Special Research Collections as a major research center for serious scholarship."
Karmiole said university libraries are becoming increasingly valuable resources.
"Old bookstores are closing left and right, so universities are the great repositories of printed history," he said. "And beyond that, the Library is so essential to the university that it should be thought of as a great place for people to support."