If you ask Manuscript Curator and Religious Studies Librarian David Gartrell to tell you about his favorite piece in the UC Santa Barbara Library American Religions Collection (ARC), he will tell you it's impossible to pick just one. He has a point. Since its inception in 1968, the ARC has become a unique and thoughtfully curated collection with an expansive variety of photos, recordings, writings, and other religious ephemera.
The collection covers a broad range of religious groups and practices, from Mormonism to Buddhism to much smaller, less popularized denominations. For fellow researchers and the community alike, it provides a fascinating picture into the sacred practices and rituals of different religions across American history. It also represents the largest and most comprehensive collection of American religious history primary source materials in the US.
This ARC was founded by J. Gordon Melton in 1968. As a graduate student, Melton became fascinated with the religious world and recognized its potential for future scholarship. His fascination led him to establish the Institute for the Study of American Religion (ISAR), with a mission to provide guidance and resources for researchers studying the 700+ individual religious denominations in the United States. 
Melton employed a creative approach to building the collection. When traveling for work or to conferences, he would try to meet in person with as many under-documented groups as possible, always inquiring if they had materials available for donation to ISAR. Far more often, he contacted them by mail, through which he achieved great success. The volume of correspondence, publications, catalogs, and other ephemera in the ARC is a testament to the willingness of these groups to respond to his requests.
In 1985, Melton gifted 25,000 volumes of books and an equally large amount of manuscript and ephemeral material acquired by ISAR, including a Christian Science collection as well as primary source material on several controversial groups (the Hare Krishnas, the Unification Church, the Church of Scientology, and the Church of God). UC Santa Barbara Library provided a new home for the ISAR and Melton remained an active contributor while he continued to serve as the ISAR's Director and as a Professor in the UCSB Department of Religious Studies. 
Today, the collection is curated by David Gartrell and now includes more than 35,000 volumes, 5,000 serials titles, and over 1,000 linear feet of archival and manuscript collections. 
Many of these items cannot be found in any other research library and are rare primary source materials that only exist in the collection. These include unpublished articles, training manuals, newsletters, and personal communications like the ones of longtime Library supporter, Nori Muster, who--in addition to funding acquisitions in ARC--gifted her personal archives documenting her time as a member of the Hare Krishna organization.  
Under Gartrell's care, the collection has grown and now includes papers of individuals and groups that offer a deeper look into particular religious traditions. Two recent acquisitions include the Isaac Bonewits papers and the Source Family donations:
Isaac Bonewits (1949 - 2010) was highly influential within the American neo-Pagan community for decades, particularly within Druidism. He was an avid collector, and his widow Phaedra has been donating his papers to the Library over the course of ten years. These materials significantly contributed to the Library's book and serials collection in neo-Paganism and also established a discrete Isaac Bonewits archive, which documents his life through correspondence, manuscripts, photographs, notes, and other files.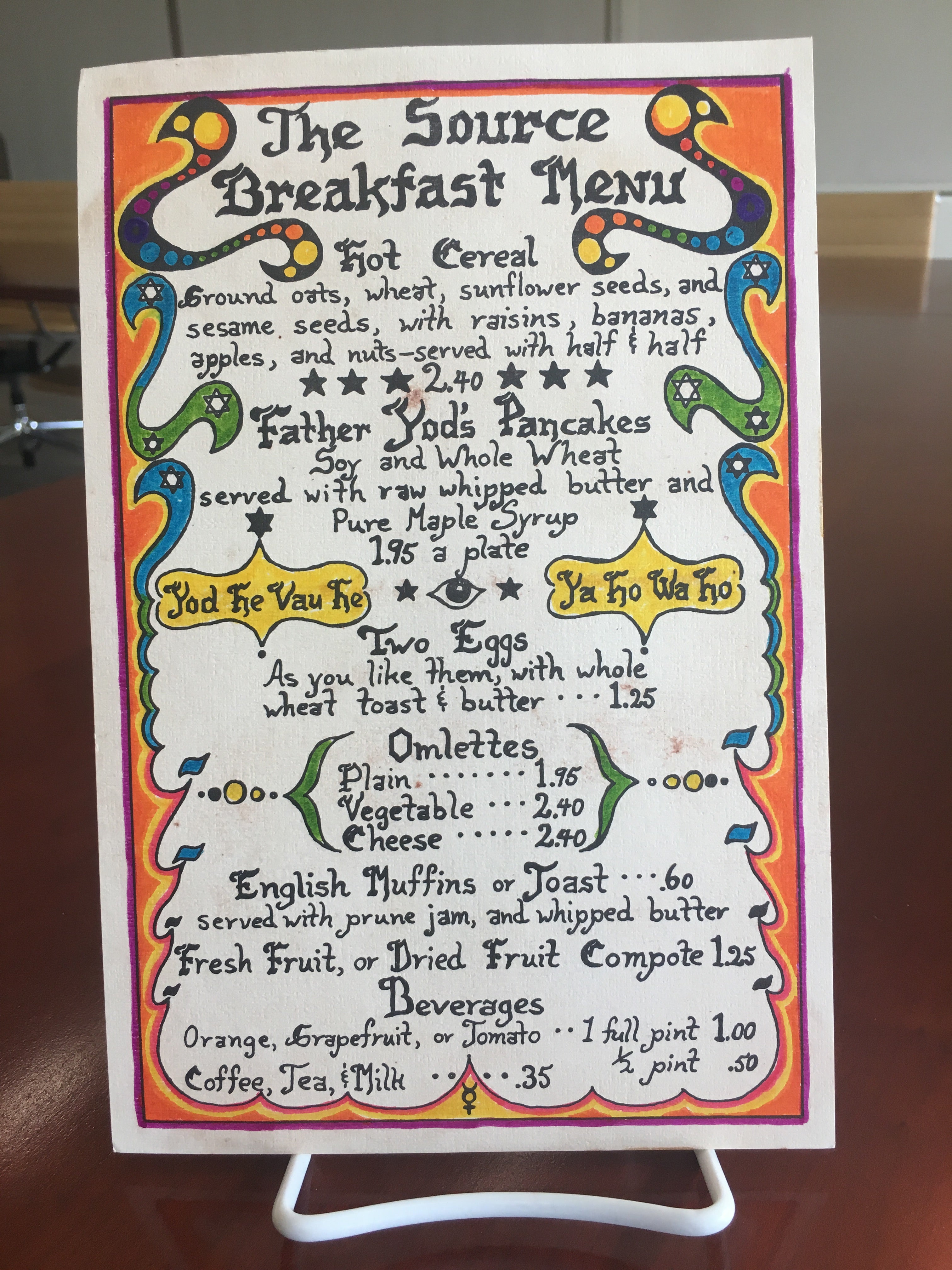 The Source Family documents were acquired in 2019, and they too provide an in depth view of a unique religious group. The Source Family began as employees of The Source, a health food restaurant on the Sunset Strip in Los Angeles in the late 1960s. Centered on the charismatic owner-manager Jim Baker, a World War II veteran and former stuntman now calling himself "Father Yod," the group began as an experiment in communal living, renting a mansion in the Hollywood Hills supported by the restaurant's earnings. 
Here they held daily meditations, practiced ceremonial magic, developed their own sacraments, and formed rock bands. The evolution of the Source Family has many twists and turns, and the fact that we are able to provide such a rich collection of primary source documentation is due entirely to the efforts of Isis Aquarian, an early devotee of Father Yod, who was appointed the group's sole documentarian and archivist.
With unique holdings like The Source and Bonewits archives, the ARC remains a valuable resource for the study of religion in America, attracting scholars from all over the world. Currently, there is a UCSB graduate student using the collection to complete his dissertation, which covers the start of yoga in the United States. He came to UCSB specifically for this collection and has used its primary sources extensively in his research. 
What can we learn from these snapshots into the past? As Gartrell emphasizes, "Primary source materials are the building blocks to history."