Frank Bresee was a veteran radio actor and radio historian. He was the host of the Golden Days of Radio program on Armed Forces Radio and Television Service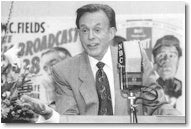 from 1967 to 1995. Golden Days of Radio reflected on the radio programs and personalities from the early days of radio up to the 1950s. The collection contains approximately 5,000 open-reel tapes, Bresee's program (as it was broadcast), source material, and complete episodes of many radio series from the 1940s and 1950s. 
A finding guide to the collection is in preparation.
This collection is currently inaccessible during the transition of the American Radio Archives from the Thousand Oaks Library Foundation to UCSB's Special Research Collections. Please monitor this page for updates.
For more information on the collection or assistance in using the materials, please contact Special Collections staff at special@library.ucsb.edu.
Photo credit: Frank Bresee speaks to his audience during a tribute held in his honor at the Thousand Oaks Library in March 1999.