Against the Wall: Social Justice and Civil Unrest in California 1960s-1980s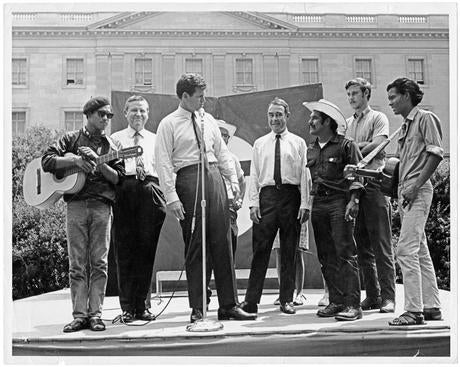 The Chicano Moratorium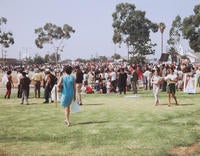 August 29, 1970 was the date of the Chicano Moratorium against the Vietnam War. This was a watershed event in the history of the Chicano Movement. Tens of thousands of Chicanas and Chicanos and their allies marched and protested in the streets of East Los Angeles.
There were demonstrations throughout the southwest between 1969 and 1971 but the biggest one was centered at Belvedere Park in East Los Angeles. What started as a peaceful protest, depicted here, became violent when Los Angeles police began tear gassing and clubbing the protestors. Four people were killed, including award-winning journalist Rubén Salazar.
Photographer: Francisco Camplis. Galeria de la Raza Archives (CEMA 4)
The United Farm Workers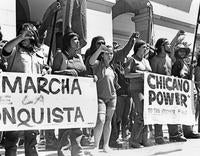 The United Farm Workers (UFW) was led by labor organizer César Chávez. Chicano activists and cultural workers participated alongside the union in demanding social and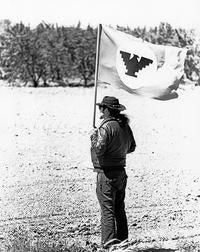 economic justice for farm workers. The iconic UFW flag, designed by Royal Chicano Air Force artist Luis Gonzalez, was a compelling and visible symbol in the fields and on the streets at the time.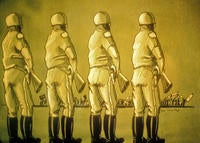 The late José Montoya, co-founder of the Royal Chicano Air Force, is depicted here in a 1971 photograph. He is holding the UFW flag during La Marcha de la Reconquista, a historic 800-mile long anti-war march from Calexico in southern California to the state capitol in Sacramento.
Photographer: Hector Gonzalez. José Montoya Papers (CEMA 20)
Farm Worker Movement
Farm worker rights—including decent working and housing conditions and fair and free union elections—drove the work of the National Farm Workers Association (later the United Farm Workers), co-founded by Dolores Huerta and César Chávez. Huerta is depicted here on August 21, 1988 at the end of Chávez's 36-day Fast for Life. Reverend Jesse Jackson took up where Chávez left off, fasting on water for three days before handing the fast over to other celebrities and leaders.
Galeria De La Raza Archives (CEMA 4)
Católicos por la Raza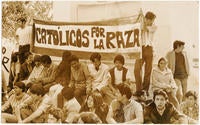 On Christmas Eve of 1969 in Los Angeles, activist Ricardo Cruz led a march of several hundred Chicanos to the newly constructed, four million dollar Catholic church known as St. Basil's. The demonstrators, some of whom were members of Católicos por la Raza, picketed outside the church to demand that it become more involved in the concerns of the Latino community. The Católicos members felt that the church was not addressing the social and economic needs of the surrounding Latino area. The demonstration led to 21 arrests, including that of Cruz.
Ricardo Cruz Católicos por la Raza Papers (CEMA 28)
Black Panther Party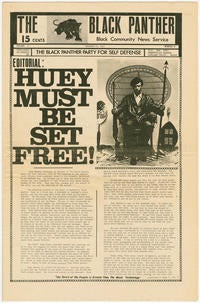 The Black Panther Party was founded in Oakland, CA in 1966 to help black neighborhoods protect themselves against police brutality. The organization's original name was the Black Panther Party for Self-Defense. This section of the exhibition features a photograph of party leaders from the late 1960s. Also pictured is the November 1967 Black Panther newspaper in which Eldridge Cleaver expounds on the seventh point of the party's governing Ten-Point Platform and Program: "We want an immediate end to police brutality and murder of black people." Newspapers played an important role in promoting the Civil Rights Movement in the United States.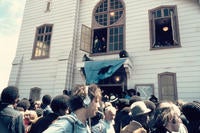 While the Black Panther Party was considered one of the more radical groups of the Civil Rights Movement, many of their requests were for basic social services in black neighborhoods, like "land, bread, housing, education, clothing, justice and peace" (point ten).
The Black Panthers (Serial) Special Collections AP2.B612
American Indian Movement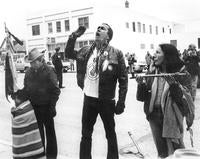 Pictured is Dennis Banks, one of the founders of the American Indian Movement (AIM) and a key leader in American Indian civil rights protests. Banks and Russell Means participated in the nineteen-month occupation of Alcatraz Island from 1969-1971, demanding that the land be returned to the Native people. In 1973 Banks was arrested for his involvement with protests in South Dakota. He eventually fled to California and Governor Jerry Brown granted him amnesty by refusing to extradite him to South Dakota to face charges.
Galeria de la Raza Archives (CEMA 4)
International Hotel Protests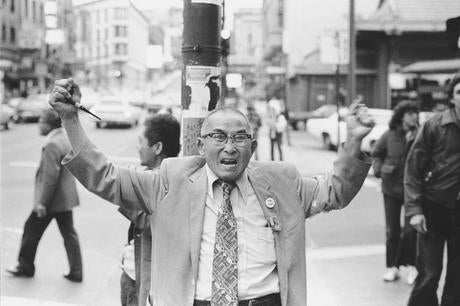 Urban renewal projects in San Francisco during the sixties ed to forced evictions of mainly elderly Asian American residents, especially Filipino Americans, from the low-cost International Hotel at the corner of Kearny and Jackson streets. Pictured here are photographs from the Manilatown tenant protests in 1977.
Kearny Street Workshop Archives (CEMA 33)
UCSB Hunger Strike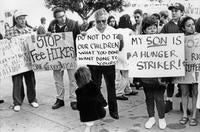 In 1989, UCSB students launched a hunger strike to call for the end of institutional racism on campus. They demanded that University administration make a serious commitment to diversity through its recruitment and retention of students and faculty of color and through the establishment of new ethnic studies departments and curricular requirements.
Photographer Lisa Valencia-Sherrat. Lisa Valencia-Sherrat Photo Book Collection
Images in this exhibition may be protected by copyright, or other restrictions. Responsibility for obtaining permissions, and for any use rests exclusively with the user.