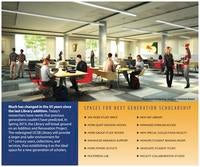 Last year, as part of the ongoing outreach program to include students in the design of the new space, the Library posted a blank banner to gather students' ideas. The most common request was "more outlets!" Today, some students bring their own surge suppressors to the Library to keep their laptops and phones charged during long study sessions.
The statistics displayed here were recorded on October 4, 2010, a typical day in the Library. During mid-terms and finals, these numbers are substantially higher and the number of users visiting the Library continues to climb each year.
Good news: the renovated building and addition will include many, many more outlets.