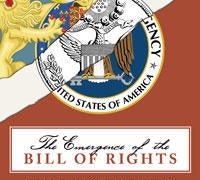 The Emergence of the Bill of Rights
Mon, 02/24/2014 - 8:00am

to

Thu, 07/31/2014 - 5:00pm
Exhibition
Location:
Special Research Collections
Exhibition is open during Special Collections' hours of operation.
The Bill of Rights as we know it today emerged from a political struggle that spans the history of the American Republic. From early debates to recent events surrounding Edward Snowden exposing the secret information-gathering of the National Security Agency, Americans have argued about the character and scope of their most basic civil rights.
This exhibition shows how the first ten amendments built upon English rights and liberties protected by the Magna Carta and expanded by Parliament in its 1689 "Bill of Rights," but only gradually emerged in the early 20th century as something we now understand to be the U.S. "Bill of Rights."  
At the centerpiece of the exhibition is an extremely rare June 13, 1789 issue of The New-York Daily Gazette newspaper containing one of the earliest printings of Madison's proposed amendments to the new Constitution. The newspaper printing and several other items in the exhibition are on loan from the collections of Sara Miller McCune and SAGE. The exhibition also includes items from the Library's Department of Special Collections.
The Emergence of the Bill of Rights is curated by UC Santa Barbara professors Patricia Cline Cohen (History) and William B. Warner (English and Comparative Literature).