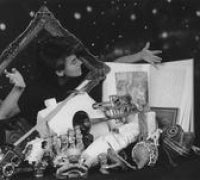 Mon, 11/16/1992 - 9:00am

to

Fri, 01/08/1993 - 5:00pm
Exhibition
Location:
Other, on-campus
UCSB College of Creative Studies Gallery
Celebrating Diversity: 25 Years of UCSB's Art Exhibition Catalog Collection is a selection from the Arts Library's unique collection of art exhibition and museum catalogs. Our purpose is to promote campus and community awareness of this exceptional resource. Emphasis has been placed on multicultural and interdisciplinary subjects that enhance teaching and research across a variety of departments on campus. Faculty and students in arts and humanities as well as social sciences and sciences will find information and illustrative material to support their area of study. We hope by means of this exhibit to convey some understanding of the richness of the Art Exhibition Catalog (AEC) Collection.
The actual scope and breadth of the AEC Collection extends well beyond the selected categories on view to include art and cultural of all periods and all countries. Catalogs in the collection span three centuries. Examples of rare and early catalogs acquired from the collection of Marcel Nicolle provide an historical overview of the developments of catalogs as a type of art publication: from simple inventory lists to sumptuous catalogs with full color reproductions. We encourage you to visit the Arts Library to discover more of this superb resource.
As we celebrate the diversity of art and culture represented in the collection, we take pride in the development of the collection of the past 25 years and in the fact that access to the collection is now available online to researchers at UCSB and across the country.