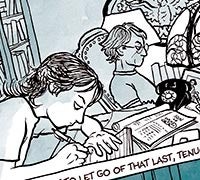 Wonder Women: Finding Women's Voices in U.S. Comics
Wed, 09/27/2017 - 8:00am

to

Sat, 09/15/2018 - 5:00pm
Exhibition
Location:
Third Floor Gallery, Ocean Side
Thanks in part to Hollywood's insatiable desire for superhero blockbusters, the nearly 100-year old comic book industry in the United States has seen a major resurgence in sales and public interest since 2010. Despite the rising mainstream attention, the comic book industry remains largely dominated by white male authors and continues to target a core audience of young white men. And while there are several strong female characters in mainstream comics, they are frequently written (and drawn) for men by other men, and the authenticity of women's perspectives is often missing.
In this exhibition, librarians highlight a handful of women-authored comic books and graphic novels held by the UCSB Library. In these autobiographies and superhero fantasies, women take power over their own narratives and make rich, diverse, substantive contributions to the wild, wonderful world of comics.
Most titles featured are available for checkout in the Comics Collection, located on 1st Floor inside the Art & Architecture Collection.