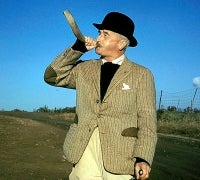 William Faulkner: Exposing the Creative Secrets of an Author's Archive
Wed, 02/12/2020 -

3:00pm

to

5:00pm
Event
Location:
Instruction & Training 1312
This year, the UCSB library acquired the complete 44-volume facsimile edition of William Faulkner's most important manuscripts, now housed in the UCSB Library's Special Research Collections. To celebrate this, the UCSB library and the English Department invites everyone to an afternoon of lively presentations that uncover the creative process of this celebrated author. 
Talks by undergraduate and graduate students who have engaged in archival research on William Faulkner's writing processes and famed peculiarities will be followed by a roundtable discussion of this Mississippi author, who won the Nobel Prize in Literature in 1949. Discussions will feature the place of the blues, gender, race, sexuality, the environment, and the role of animals as revealed in the missing parts and added passages exposed in these manuscript and typescript facsimiles.
The event will include photographs, a selection of the facsimile volumes, and refreshments. This innovative archival deep dive was made possible by the Arnhold Collaborative Research Project Grant.
The event will include the following presentations:
Celie Mitchard and Emma Johnson: "Who's singing Nancy's Blues: Musicality, Narration, and Structure in Faulkner's 'That Evening Sun'"
Brenda Tan: "Palimpsest Stories"
Ryan Watt: "Synoptic Faulkner"
Joseph Sweetnam: "Seen and Not Seen: Hidden Eyes in As I Lay Dying"
Refreshments will be served.