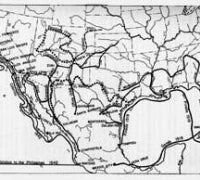 Mon, 08/21/2000 - 8:00am

to

Sun, 11/12/2000 - 5:00pm
Exhibition
Location:
Special Research Collections
The William Wyles Collection contains a wide range of material dealing with the history of the West, mainly in the nineteenth century. Included in the collection are books, newspapers and magazines, maps, photographs, documents, correspondence, diaries, and artifacts.
The collection is named after William Wyles, an avid collector of items relating primarily to Abraham Lincoln, the Civil War, and westward expansion. Wyles left his collection to UCSB upon his death in 1946, as well as an endowment to ensure its ongoing maintenance and growth.
Today the collection has more than 35,000 volumes and several hundred manuscript collections. The collection continues to reflect its donor's original interests, but it also seeks to keep abreast of current research interests, including the history of women, and African Americans, Asian Americans, Chicanos/Latinos, and Native Americans in the West.
Featured in the exhibit are selective examples of original nineteenth century volumes and more recent research works reflecting some of the themes in the Wyles Collection, such as
Exploring the West
William H. Goetzmann, Army Exploration in the American West, 1803-1863. New Haven: Yale University Press, 1959.
William H. Goetzmann, Exploration and Empire: The Explorer and the Scientist in the Winning of the American West. New York: Alfred A. Knopf, 1966.
LeRoy R. Hafen, et al, Western America: The Exploration, Settlement, and the Development of the Region beyond the Mississippi. Englewood Cliffs, NJ: Prentice-Hall, 1970.
The Journals of the Lewis and Clark Expedition, Volume 2. Lincoln: University of Nebraska Press, 1983- .
United States. Army. Corps of Engineers. [Lt. E. G. Beckwith]. Report of Explorations for the Pacific Railroad, on the Line of the Forty-first Parallel of North Latitude. [Washington, D.C.], 1854.
David J. Weber, The Californios versus Jedediah Smith, 1826-1827: A New Cache of Documents. Spokane, WA: A. H. Clark, 1990.
Charles Wilkes, Narrative of the United States Exploring Expedition during the Years 1838, 1839, 1840, 1841, 1842. Philadelphia: Lea and Blanchard, 1845.
Alta/Mexican California
Peter J. Blodgett, Land of Golden Dreams: California in the Gold Rush Decade, 1848-1858. San Marino, CA: Huntington Library, 1999. Blodgett's book accompanies a 150th anniversary Gold Rush exhibition at the Huntington and contains a discussion of Mexican California before the Gold Rush.
Richard Henry Dana, Two Years before the Mast. A Personal Narrative of Life at Sea. New York, Harper Brothers, 1841. Contains a description of Mexican California, its government, missions, and inhabitants.
Don DeNevi, Sketches of Early California: A Collection of Personal Adventures. San Francisco: Chronicle Books, [1971]. Contains a description of the rancheros.
Alexander Forbes, California: A History of Upper and Lower California. San Francisco: Printed by J. H. Nash, 1937. Contains a description of the missions and presidios.
Cecil Alan Hutchinson, Frontier Settlement in Mexican California: The Hijar-Padres Colony and Its Origins, 1769-1835. New Haven, Yale University Press, 1969.
Mary Lee Spence and Donald Jackson (eds.), The Expeditions of John Charles Fremont. Volume 2: The Bear Flag Revolt and the Court-Martial. Urbana, IL: University of Illinois Press, 1973. Includes copies of correspondence with Don Jose Castro, Commandant General of Upper California.
Women on the Frontier
Donald Chaput, Nellie Cashman and the North American Mining Frontier. Tucson, AZ: Westernlore Press, 1995.
Cheryl J. Foote, Women of the New Mexico Frontier, 1846-1912. Niwot, CO: University Press of Colorado, 1990.
Julie Jones-Eddy, Homesteading Women: An Oral History of Colorado, 1890-1950. New York: Twayne Publishers, 1992.
JoAnn Levy, They Saw the Elephant: Women in the California Gold Rush. Camden, CT: Archon Books, 1990.
Sandra L. Myres, Westering Women and the Frontier Experience, 1800-1915. Albuquerque: University of New Mexico Press, 1982.
Linda S. Peavy, The Gold Rush Widows of Little Falls: A Story Drawn from the Letters of Pamelia and James Fergus. St. Paul: Minnesota Historical Society Press, 1990.
Glenda Riley, The Female Frontier: A Comparative View of Women on the Prairie and the Plains. Lawrence, KS: University Press of Kansas, 1988.
Lillian Schlissel, Women's Diaries of the Westward Journey. New York : Schocken Books, 1982.
Early Western Photographers and Native Americans
Edward S. Curtis, Edward Sheriff Curtis: Visions of a Vanishing Race. New York: American Legacy Press, 1981. Edward S. Curtis is perhaps the best known photographer of Native Americans of the late nineteenth and early twentieth centuries, but a number of other photographers also provided a visual record of Native American throughout the West.
Barbara A. Davis, Edward S. Curtis: The Life and Times of a Shadow Catcher. San Francisco, CA: Chronicle Books, 1985.
Frank Matsura, The Real Old West: Images of a Frontier. Vancouver, BC: Douglas McIntyre, 1981.
Photographer of the Southwest, Adam Clark Vroman, 1856-1916. (Los Angeles,CA: Ward Ritchie Press, 1974, c1961).
Photography in the West. Manhattan, KS: Sunflower University Press, 1987.
Soldiers, Settlers, and Cowboys: African-Americans and the West
Norman L. Crockett, The Black Towns. Lawrence: Regents Press of Kansas, 1979.
Philip Durham, The Negro Cowboys. New York: Dodd, Mead, 1965.
Arlen L. Fowler, The Black Infantry in the West, 1869-1891. Westport, CT: Greenwood, 1971.
William Loren Katz, The Black West: A Documentary and Pictorial History. Garden City, NY: Doubleday, 1971.
William Loren Katz, The Black West. 3rd ed. Seattle, WA: Open Hand Pub., 1987.
Nat Love, The Life and Adventures of Nat Love. New York: Arno Press, 1968.
The Chinese and the California Gold Rush
Peter J. Blodgett, Land of Golden Dreams: California in the Gold Rush Decade, 1848-1858. San Marino, CA: Huntington Library, 1999. Blodgett's book contains a discussion of Chinese immigration and participation of Chinese miners in the Gold Rush.
Laverne Mau Dicker, The Chinese in San Francisco: A Pictorial History. New York: Dover Publications, 1979.
Erwin Gustav Gudde, California Gold Camps: A Geographical and Historical Dictionary of Camps, Towns, and Localities Where Gold Was Found and Mined, Wayside Stations and Trading Centers. Berkeley: University of California Press, 1975. Includes entries for places such as China Flat and Chinese Camp.
Corinne K. Hoexter, From Canton to California: The Epic of Chinese Immigration. New York: Four Winds Press, 1976.
Alan Clark Miller, Photographer of a Frontier: The Photographs of Peter Britt. Eureka: Interface California Corp., 1976. Includes portraits of Chinese in California.
Time-Life Books [William Weber Johnson], The Forty-niners. New York, 1974. Includes a discussion of attitudes toward Chinese miners and other ethnic groups.
Local Authors and Western History
Jay Monaghan. Chile, Peru, and the California Gold Rush of 1849. Berkeley, CA: University of California Press, 1973. Jay Monaghan was a longtime consultant to the William Wyles Collection. He established an endowment which continues to support acquisitions and maintenance of the Wyles Collection.
Jay Monaghan. Custer: The Life of General George Armstrong Custer. Boston: Little, Brown and Company. 1959.
David Lavender. The Way to the Western Sea: Lewis and Clark Across the Continent. New York: Harper Row, 1988. David Lavender is a consultant to the William Wyles Collection.
David F. Myrick. Railroads of Nevada and Eastern California. Volume One: The Northern Roads. Berkeley, CA: Howell-North Books, 1962. David Myrick is a Board member of the Friends of the UCSB Libraries.
Remi Nadeau, Ghost Towns and Mining Camps of California. Los Angeles: Ward Ritchie Press, 1965. Remi Nadeau is a Board member of the Friends of the UCSB Libraries.
Richard Edward Oglesby. Manuel Lisa and the Opening of the Missouri Fur Trade. Norman, OK: University of Oklahoma Press, 1963. Richard Oglesby is a consultant to the William Wyles Collection.
Image caption: From Goetzmann, Army Exploration in the American West, 1803-1863