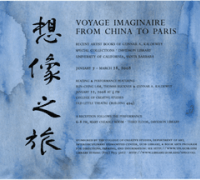 Mon, 01/07/2008 - 8:00am

to

Fri, 03/28/2008 - 5:15pm
Exhibition
The exhibit highlights recent artist books published by Gunnar A. Kaldewey.
A reading from selected books in the exhibition and a musical performance took place on Tuesday, January 22 from 5-6 pm in the Old Little Theatre at the College of Creative Studies (Building 494). The performance featured music from the composer Bun-Ching Lam and the baritone singer Thomas Buckner. The performance included the reading of poems, texts, and songs in their original languages, including selections from Chinese, Tibetan, Persian, German, Italian, and French. A reception – with the publisher and performers in attendance – from 6-8 pm followed in the Mary Cheadle Room, 3rd floor, Davidson Library.
In 1985 Gunnar A. Kaldewey – who already had a distinguished career in Europe and the United States as a rare book dealer – set up a hand press in Poestenkill, north of New York City. More than two decades later, he has produced over 60 unique limited edition publications in cooperation with a number of contemporary artists, including Jonathan Lasker, Mischa Kuball and Richard Tuttle. Texts have come from a range of poets and writers, including Samuel Beckett, Paul Celan, Marguerite Duras, William S. Burroughs, Anne Waldman, and James Joyce. His work can be seen in many of the leading libraries, museums, and private collections around the world that concentrate on contemporary artists books. Mr. Kaldewey has visited Santa Barbara many times, and his work was included most recently in "The Rocket Four: Making Artist Books Today" at the Contemporary Arts Forum in 2004.
Bun-Ching Lam is a distinguished contemporary composer who has received several notable awards and recognition for her work, including a Guggenheim Fellowship and a Rome Prize. Born in Macao, she now lives and works, with Gunnar Kaldewey, in New York and Paris.
For 30 years Thomas Buckner has won a very special niche – that of a champion of the avant-garde. In concert halls throughout the world, his "baritone-mastery" has astonished both audiences and critics. Tom has an extraordinarily flexible voice, as his experience and ability span madrigals, lieder, opera, free improvisation, extended techniques, all the way to electronically processed wordless minimalist song. He has been featured as a soloist in opera, with orchestra, chamber and in recital. He lives and works in New York.