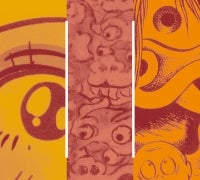 Visual Pleasure through Private Gaze: Paneled Art in East Asian Handscrolls and Comics
Wed, 10/12/2022 - 8:00am

to

Tue, 06/20/2023 - 5:00pm
Exhibition
Location:
Art & Architecture Collection
UCSB Library is pleased to present this display of handscrolls and comics from its Art & Architecture Collection. Both forms of art are consumed and enjoyed by individual users, panel by panel, and both are used in teaching and research at UCSB.
Painted horizontally on narrow sheets of paper or silk, handscroll paintings are a unique type of  East Asian painting. Handscrolls are typically 0.7-1.2 feet in width, but their length varies from just a few feet to dozens of feet. Viewed frame by frame, handscroll paintings present art that progresses temporally and spatially. Handscrolls are considered the prototype of modern comics, a medium which similarly expresses ideas with images. The Japanese handscroll Chōjū-jinbutsu-giga 鳥獣人物戯画 (literally Animal-person Caricatures), for example, is considered the oldest Japanese comic, or manga. 
Exhibition curated by librarians Chizu Morihara and Yao Chen.
In 2020 UCSB Library acquired reproductions of 34 handscrolls from the Royal Collection of Imperial China to complement our collection of hanging scrolls from the National Palace Museum in Taiwan. Hanging scrolls are well used in teaching in the Department of History of Art & Architecture, and the Library's recent purchase of these handscrolls are important in supporting departmental teaching and research.  
Although it is common for university libraries to collect comics, most often these collections are in closed and non-circulating areas of the library. What makes UCSB Library's collection special is that it is browsable by and accessible to all Library users.
The World Comics Collection within the Library's Art & Architecture Collection started with a generous donation in 2011 from Miriam Wattles, professor emerita of History of Art & Architecture. The Library continues to purchase materials in all languages to support the growth of the collection. The World Comics Collection focuses on the graphic narrative form from around the world, and supports teaching and research in multiple departments, including History of Art & Architecture, History, English, Religious Studies, and more. 
Donors who have generously supported UCSB Library's East Asian Collection and Art & Architecture Collection include Dorris Goodrich, Chuck Huber, Heather and Jeremy Nisen, the Tai family, and Miriam Wattles