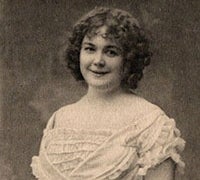 Viennese Operetta and the World of Franz Lehár
Mon, 01/14/2019 - 8:00am

to

Fri, 07/12/2019 - 5:00pm
Exhibition
Location:
Mountain Gallery
Viennese Operetta turned a humorous mirror on contemporary society in the years before and after World War one, providing satirical commentary on issues of the day including new technology, women's rights, and consumerism. The materials in this exhibition are from Mike and Nan Miller's Operetta Collection, which is bequeathed to UCSB Library.
Curated by UCSB Librarians Kyra Folk-Farber and David Seubert.
This exhibition is part of a larger celebration of the Michael and Nan Miller Operetta Archive donation to the UC Santa Barbara Library.  UCSB Library and UCSB Department of Music are staging the North American premiere of Die Juxheirat – The Mock Marriage – by Franz Lehár, which was selected from the archive and will be performed by the award-winning UC Santa Barbara Opera Theatre students at the Lobero Theatre on Saturday, February 16 at 8pm, and Sunday, February 17, 2019 at 2pm.
Exhibition opening event on February 15, from 4:00 - 6:00 in UCSB Library, Sunrise Room (1st Floor, Mountain Side).
 
Image credit: Annie Wünsch as Miss Edith in Die Juxheirat, Theater an der Wien, 1904. Photo by Josef Löwy.