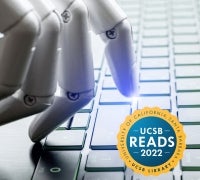 UCSB Reads Sci-Fi Writing Workshop
Thu, 04/07/2022 -

4:00pm

to

6:00pm
Wed, 04/13/2022 -

4:00pm

to

6:00pm
Thu, 04/21/2022 -

4:00pm

to

6:00pm
Event
Location:
Instruction & Training 1312
Undergraduate students are invited to join UCSB Library and UCSB Reads 2022 for a three-part Sci-Fi creative writing workshop. The goal of the workshop is to spark the imagination of both novice and experienced writers, and to guide them toward the creation of their own original science fiction short story.
Led by graduate students Kaaronica Evans-Ware and Margaret Fisher, workshop participants will use the UCSB Reads 2022 book Exhalation: Stories by Ted Chiang as inspiration. 
Attendance at all three sessions is preferred but not required. Reading Exhalation is the only prerequisite to the workshop.  
A free copy of the book is available to participants.  To get a copy or for more information, please email UCSBReads@library.ucsb.edu. 
Workshop Schedule
Thursday, April 7th–– Session One (4-6pm. A recording is available here. Slides can be viewed here.)
Monday, April 11th––Optional Drop-in Writing Session (4-5:30pm)
Wednesday, April 13th–– Session Two (4-6pm)
Wednesday, April 20th––Optional Drop-In Writing Session  (4-5:30pm)
Thursday, April 21st–– Session Three (4-6pm)