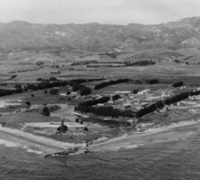 Fri, 06/28/1996 - 8:00am

to

Fri, 09/27/1996 - 5:00pm
Exhibition
Location:
Special Research Collections
In the summer of 1996 the Department of Special Collections presented the exhibit entitled, "The UCSB Campus: From Schoolhouse to University." The focus of the display was on the physical development of the Goleta campus, but also included the earlier campuses.
The display contained architects' paintings, floorplans, planning documents, maps, and many photographs of the campus under construction. Special sections were devoted to the Davidson Library (including comments about the library and the Goleta campus from Donald Davidson's oral history), and the antecedents of UCSB: the Santa Barbara, Riviera, and Mesa campuses.
Highlights of the exhibition included photos of the Marine Airbase and the campus prior to development, original Master plans of the campus as it was envisioned by the architects (but never built), and rare color photos of the Riviera campus.