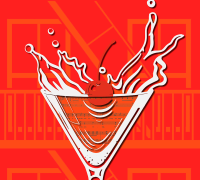 UCSB 2023 Opera: Burning to Sing
Event
Location:
UCSB Lotte Lehmann Concert Hall
The UCSB 2023 Opera "Burning to Sing" is a comedic and charming production that promises to leave audiences thoroughly entertained. This ironic tale of Madame Tremolini, voice teacher extraordinaire and cast of colorful characters in a 1950's apartment building that is slowly catching fire, will have you grinning from ear to ear with delight. The witty score sets the perfect backdrop for this amusing operetta.
Whether you're an opera enthusiast or just looking for a fun night out, "Burning to Sing" is a must-see performance that will leave you with a heart full of laughter and joy. Don't miss this charming operetta that will have you leaving the theater with a skip in your step!
Per Madame Tremolini's request, there will be a reception following the performance with the finest cocktails...
To reserve your ticket, please select your preferred showing:
Presented by the UCSB Department of Music and UCSB Library.
General Admission: $20, Seniors, Military, Non-UCSB students with ID: $17, UCSB students with ID: Free, Children under the age of 12: Free