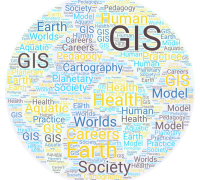 UC GIS Week 2022
Tue, 11/15/2022 -

11:00am

to

3:30pm
Wed, 11/16/2022 -

9:30am

to

5:00pm
Thu, 11/17/2022 -

9:30am

to

3:30pm
Event
Location:
Online
Register now for UC GIS Week conference from Nov. 15th - 17th!  
The University of California GIS Week is an opportunity for you to learn and engage with experts and mapping projects across the UC system and beyond! Learn about impactful research and applications, engage with panelists, and view the entries in our poster gallery.
The event will be hosted virtually through Zoom.
All talks are free and open to the public!
Your registration entitles you to attend any or all of the tentatively scheduled events:
Tuesday - 11/15
GIS + Humanities
GIS + Engagement
Cartography Workshop
Wednesday – 11/16
Career Panel
GIS + Health
GIS + Planetary Health
Lightning Talks
Pedagogy Panel
Thursday – 11/17
GIS + Practice
GIS + Society
GIS + Aquatic Worlds
Register now to stay informed on all things UC GIS Week!
For more info visit the UC GIS Week page, email ucgisweek@gmail.com or join our Slack channel!