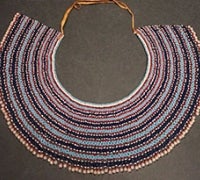 Teaching Exhibition: Historical Arts and Cultures of the African Continent
Tue, 10/03/2017 - 8:00am

to

Mon, 12/11/2017 - 5:00pm
Exhibition
Location:
Art & Architecture Collection
On view at the UCSB Library in collaboration with UCSB's Art, Design, & Architecture (AD&A) Museum, are artworks from Africa which are presented as part of an assignment for the Art History African I course.  Providing an introduction to African art through analysis of African cultures and symbol systems, the diverse objects on display here will increase students' direct contact with African artworks and contexts by shifting the focus towards analysis of the engineering of cultural production.  How are specific African artworks made, in terms of materials, methods or production and what are the implications of this process of production on the economic, cultural, political, religious and ritual functions of the artworks? 
The class will use selected artworks from the AD&A Museum collections to evaluate how to display and interpret African artworks for a social media audience.  Each student will use a select number of artworks to create an exhibition proposal and ultimately a display protocol for their selection.