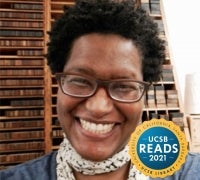 Art & Activism: A Talk with Book Artist and Printmaker Tia Blassingame. A UCSB Reads 2021 Event.
Event
Location:
Online
In conjunction with UCSB Reads 2021, UCSB Library, the Art Department, and the College of Creative Studies are happy to present this event with Tia Blassingame, a book artist and printmaker whose work explores the intersection of race, history, and perception. The talk will be followed by audience Q&A moderated by Iman Djouini, Assistant Teaching Professor in College of Creative Studies and UCSB Department of Art. 
Tia Blassingame often incorporates archival research and her own poetry in her artist's book projects for nuanced discussions of racism in the United States. Her artist's books are held in library and museum collections including Library of Congress, Stanford University, the Metropolitan Museum of Art, Bainbridge Island Museum of Art, and State Library of Queensland. In 2019, She founded the Book/Print Artist/Scholar of Color Collective, which has over thirty members. Blassingame is an Assistant Professor of Book Arts at Scripps College and the Director of Scripps College Press.
Several of Blassingame's works are in the collection of UCSB Library's Special Research Collections.
Co-sponsored by UCSB Library and the Department of Art, and in collaboration with College of Creative Studies.
This event will include live captioning. If you need an accessibility service or have questions about event accessibility, please contact us at outreach@library.ucsb.edu no later than two weeks prior to the event.