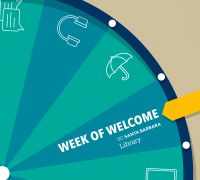 Fri, 09/22/2023 - 11:00am

to

Wed, 09/27/2023 - 2:00pm
Mon, 09/25/2023 -

11:00am

to

2:00pm
Tue, 09/26/2023 -

11:00am

to

2:00pm
Wed, 09/27/2023 -

11:00am

to

2:00pm
Event
Location:
Paseo
Welcome all students to the new academic year! Did you know you can borrow a laptop, bike lock, umbrella, board games, and more from UCSB Library?
Whether you are a new or returning student, stop by the Library's Week of Welcome (WoW) table in the Paseo where you can spin the wheel, enjoy a treat, and learn more about your library. Library staff are eager to meet you and answer whatever questions you have about our available collections, services, resources, and our amazing staff. 
Students visiting the table can choose to participate in our WoW contest, which involves a "spin" (short tour) of the Library building, for a chance to win a $25 Campus Store gift card.