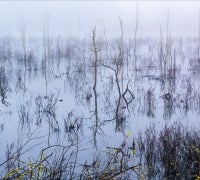 Shadow and Light: Honoring Iraqi Academics
Sun, 08/01/2021 - 8:00am

to

Thu, 03/31/2022 - 8:00am
Exhibition
Location:
Art & Architecture Collection
This exhibition will be on display in the Art & Architecture Collection gallery beginning Fall 2021. 
These photographs and artist's statements are part of a project launched by poet Beau Beausoleil to honor Iraqi academics who were killed in Iraq between 2003-2012. More than 400 academics were assassinated during this period, and their names, with a few brief details, have languished in an online list that has haunted Beausoleil for some time. Professional and non-professional photographers contributed the photographs and artist's statements on display.
According to Beausoleil, these killings were done not just to permanently remove these lecturers and professors, but to also send a message that the very act of teaching, and that who and what should be taught, would be decided by others with their own agendas.  The underpinning of this project are free speech, the free exchange of ideas, academic freedom and censorship.  The project, which is ongoing, uses a list of 324 murdered academics identified by a Spanish NGO, compiled from contemporary private and public sources.
Shadow and Light is part of a larger project called, Al-Mutanabbi Street Starts Here, which was formed in 2007 as a book arts response to the car-bombing of al-Mutanabbi Street (the street of the booksellers) in Baghdad, Iraq.  For more information about both projects, please visit https://www.arabartsfestival.com/al-mutanabbi-street-starts-here-home/.
Photo by Jim Lommasson