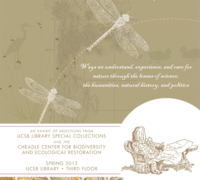 Tue, 04/03/2012 - 7:45am

to

Sat, 06/16/2012 - 5:00pm
Exhibition
Location:
Special Research Collections
Mankind has occupied itself since time immemorial with the question of its relationship to the natural world. "Seeing Nature" explores the ways people have sought to understand, experience, and care for nature. Davidson Library Special Collections and the Cheadle Center for Biodiversity and Ecological Restoration present items from their holdings that illustrate some of the myriad ways we look at the world around us, both literally and figuratively, through the lenses of science, the humanities, natural history, and politics.
Dating from centuries ago to the present, the books, articles, specimens, illustrations, lab equipment, posters, and pamphlets featured in this exhibit show that while our understanding has certainly changed, our love of the living world continues to be inherited and built upon by each successive generation.
For more information, see the press release from UCSB's Office of Public Affairs.