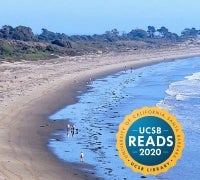 Sea Level Rise & Coal Oil Point Reserve: A Walking Tour
Mon, 04/27/2020 -

2:00pm

to

4:00pm
Event
Location:
Other, on-campus
This event was cancelled due to the Covid-19 campus closure. 
In conjunction with the
UCSB Reads 2020
book
Rising: Dispatches from the New American Shore
, please join Cris Sandoval, Director of the Reserve, and Charles Lester of UCSB's Ocean and Coastal Policy Center in the Marine Science Institute on a two-hour walk through the reserve's eight habitats: from sandy beach to the Devereux Slough to a restored coastal dune system.  Learn about the Reserve's cultural history and its current conservation, restoration, and research projects and learn how sea level rise will affect these habitats.  You will enjoy glimpses of rare and endangered species-such as White Tailed Kite, Western Snowy Plover, and the Wandering Skipper butterfly. 
Meeting Location: At picnic tables in front of Cliff House, Coal Oil Point Reserve, Slough Road