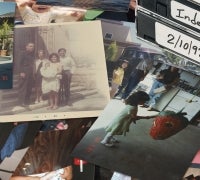 Santa Barbara Community Archiving Day
Sat, 11/05/2022 -

2:00pm

to

5:00pm
Event
Location:
Other, off-campus
Santa Barbara Public Library, Eastside Branch
​1102 East Montecito Street, Santa Barbara CA 93103
A collaboration between UCSB Library and Santa Barbara Public Library, the Santa Barbara Community Archives Project invites residents of the Eastside neighborhood and surrounding communities to bring their family photographs and home movies to Santa Barbara Public Library Eastside Branch for FREE digitization by UCSB Library.
During this event, we'll scan your photographs onsite and collect videotapes for future digitization at UCSB Library. You keep the originals along with digital files and we'll archive digital copies as part of UCSB Library's Santa Barbara Community Archives collection. We'll also be joined by representatives from the Santa Barbara Trust for Historic Preservation who will be sharing resources related to preservation and  local history.
The Santa Barbara Community Archives Project is an initiative to document the rich and diverse communities that make up Santa Barbara. Help us preserve local history while also preserving your family's memories by sharing candid family photos, videos of gatherings and celebrations, commercials or promotional videos for local businesses, recordings created by local community organizations–anything that you or your family has shot in Santa Barbara County. 
Materials that will be accepted: Photographs, VHS, SHVS, VHS-C Betamax, Betacam, MiniDV, or Video8
For more information please visit https://spotlight.library.ucsb.edu/starlight/sbcap.
This project was made possible with support from California Humanities, a non-profit partner of the National Endowment for the Humanities. Visit www.calhum.org.
Image courtesy of Rebecca Vasquez