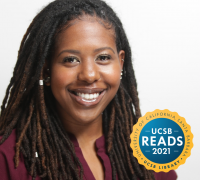 Rest in Thought and Practice with Macala "Kala" Lacy
Fri, 05/14/2021 - 11:00am
Event
Location:
Online
A.S. Black Women's Health Collaborative, Health & Wellness, UCSB Library and UCSB MultiCultural Center presents Rest in Thought and Practice with Macala "Kala" Lacy. This workshop will center stillness and rest as practices for healing. Attendees will hear from Kala on how she came to find her practice and The Well Healing, a holistic resources and services space for communities and individuals experiencing marginalization and oppression. Through guided meditation and community discussion, the group will explore rest, how to embody it, and how rest aids in healing.
This event is free and open to the UCSB community. 
Macala Lacy, AMFT & CYT is the founder of The Well Healing. Kala's (she/they) life purpose is to support the healing of LGBTQ+ Black and people of color. She uses her knowledge and experience as a registered associate marriage & family therapist and certified yoga teacher to provide underserved communities across the nation with education of physical, emotional, mental, and spiritual wellness.
The Well Healing is a culturally responsive resource that contains holistic wellness events, tools, and education for communities and individuals experiencing marginalization and oppression. Techniques derived from the east, west, dirty south, the streets, academia, and our ancestors are interwoven to create accessible, conscious, and transformative wellness tools designed to heal the whole person.
This program is in conjunction with UCSB Reads 2021 and Mindfulness for Social Justice.