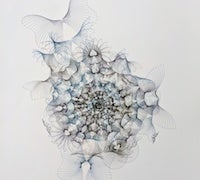 Rendering Matter: Encoded Objects, CNC Translations, and Embodied Information
Thu, 02/22/2018 -

3:30pm

to

5:00pm
Event
Location:
DREAM Lab
Molly Morin, Assistant Professor of Art, Weber State University, is an artist and educator working at the intersection of digital and analog practices. She makes material representations of information through generative drawing, soft sculpture, and digital fabrication. Through her creative practice, she develops critical and poetic approaches to making art with digital tools. Her projects set out to challenge assumed hierarchies, question our faith in data, and discover new means of making across traditional technical and disciplinary boundaries. She is currently preparing for a forthcoming exhibition at the Utah Museum of Contemporary Art and an invited lecture at the National Academy of Science. 
Molly's talk will be accompanied by "A Short-Lived Escape from Gravity," a pop-up exhibition of her work in the zone between digital information and material sculpture.
The talk and exhibition are co-sponsored by the Transcriptions Center, Media Arts & Technology Program, and Wireframe Studio; and is co-organized by the English Department and the UCSB Library's Interdisciplinary Research Collaboratory.