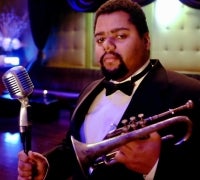 Relive the 1890s with Hancock's California Orchestra: Celebrating the Launch of the UCSB Library's Early Recordings Initiative
Event
Location:
Special Research Collections
In Person Registration OR Zoom Registration
Thursday, April 7, 2022
5:00 PM PT Reception
5:30 PM PT Event
UCSB Library Special Research Collections | Mountain Side, 3rd Floor
*Free campus parking will be available
Join the Library for an evening of music from the 1890s performed by Hancock's California Orchestra to celebrate the launch of the Library's Early Recordings Initiative (ERI). A selection of 1890s hits, as originally recorded on wax cylinders, will be performed by musician and historian Colin Hancock and his 5-piece orchestra. Come enjoy the sounds of America's past, complete with a live cylinder recording demonstration and a "pop-up" exhibit of late 19th century phonographs and recordings.
The songs selected for performance were originally recorded on fragile wax cylinders over 120 years ago. After surviving the perils of time through both luck and the foresight of private collectors, these cylinders – and thousands more like them – are currently being preserved and digitized by the UCSB Library and made available online via the Cylinder Audio Archive. To support this pioneering preservation effort, cylinder collector John Levin established the Early Recordings Initiative, which helps promote the preservation, accessibility, understanding, and appreciation of pre-1903 sound recordings. The Initiative, anchored by the John Levin Early Recordings Fund, is focused on the acquisition, conservation, maintenance, digitization, and study of the earliest and rarest sound recordings.
Colin Hancock
Colin Hancock is a Grammy nominated multi-instrumentalist, historian and recording engineer originally from Austin, TX, and currently based in New York City. He is focused on the music and recording technology of the pre-microphone acoustic era (pre-1925) and has led several projects that focus on the development of American music during this time. Colin also leads several bands across the United States, including the Jazz Serenaders, Signature Seven, and Red Hot Eight. His demonstrations of 1890s live recording technology have transfixed audiences across America.