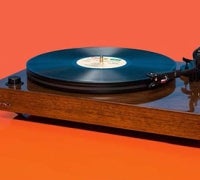 The Redoubtable Disc Record – And Why the Format Refuses to Die
Event
Location:
Special Research Collections
Please join UCSB Library for a reception and panel discussion that will consider the history of the disc record, its evolution along with popular music, and explain why we still can't get enough of our beloved vinyl LP collections.
In the age of fast-changing technology affecting the way we consume music, why is it that 43% of all albums sold in the U.S. in 2022 were vinyl LPs? The disc record format has been around since the late 1800s and yet its popularity continues to grow as the only physical media format with increasing sales.
Moderated by Yuri Shimoda, Media Archivist, the panel will include
Richard Martin, Record Producer, Archeophone Records
Nick Bergh, Sound Restoration Expert and Founder, Endpoint Audio Labs, Inc.
Patrick Feaster, Specialist in the history, culture, and preservation of early sound media
This event is presented by UCSB Library as part of the Early Recordings Initiative (ERI). The ERI is focused on the acquisition, conservation, maintenance, digitization, and study of the earliest and rarest early sound recordings. These records are primarily brown wax cylinders but also include other early formats.