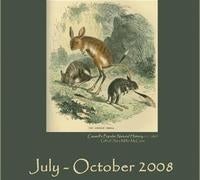 Fri, 07/18/2008 - 8:00am

to

Sat, 10/25/2008 - 5:00pm
Exhibition
Location:
Special Research Collections
The collections highlighted in this exhibition include:
Adams [Fred] / Feraferia Collection (ARC Mss 27)
Barnes [Grover] Papers (CEMA 115) 
Bastin [Bruce] / Interstate Music Collection
California Circus Photographs Collection, 1940s-1950s (PA Mss 67) - Click here too see scanned photographs from the collection.
Capps [Walter H.] Papers (UArch FacP 47)
Dorbin [Sanford] Papers (Mss 21) - Recent donation primarily of poetry journals and other magazines in which Charles Bukowski poems appear
Eagleton [George D.] Stereoview Collection, ca. 1860s-2004 (Mss 255) - Click here to see scanned images of select stereoviews from the collection
Heath [Richard A.] / Early Lockheed History Collection, ca. 1880s-2005 (SBHC Mss 76) - Gift of Norene Sullivan, daughter of R.A. Heath
Hoffberg [Judith] Collection (Printers Mss 62)
Marvin [Frances] Mexico Scrapbook, ca. 1945-1947 (Wyles Mss 158)
O'Brien [Neil] Papers (PA Mss 70) - Minstrel Show Poster from the group Lew Kockstader and His Minstrels, ca. 1909
Schmidt [Oswin] Polar / Arctic Travel Album, 1912 (Bernath Mss 311)
Romaine [Lawrence B.] Trade Catalog Collection (Mss 107) - New acquisitions purchased with George and May Sheirs Endowment funds
Sheinbaum [Stanley K.] Papers. Pentagon Series. (Mss 217)
New acquisitions to the cylinder collection.
Highlights from the Oral History Collection, including the oral histories of George Leonard, Leo Limon, and Lou Cannon.
Rare books donated by Sarah Miller McCune, featuring six volumes of natural history with illustrations, including the illustration featured on our exhibit poster.
Artist books purchased with Skofield Endowment funds.