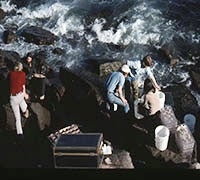 Quadrats and Stomatopods: A Glimpse into the Engle and Littler Collections
Wed, 10/17/2018 - 8:00am

to

Mon, 08/26/2019 - 5:00pm
Exhibition
Location:
Third Floor Gallery, Ocean Side
The Channel Islands, visible off the coast of Santa Barbara, are an integral part of our local ecosystem.  Marine Biologists from the University of California use a variety of methods to study sea life and advance the research in the waters that surround the islands.
Drawing from the collections of Jack Engle, retired Biologist from UC Santa Barbara, and Mark and Diane Littler, retired biologists from UC Irvine, this exhibition demonstrates some ways in which scientists conduct these long-term ecological studies. These extensive time-series data sets are uniquely valuable records that are available for scientists to study and replicate in order to examine long-term oceanic and marine dynamics.
These methods include the use of quadrats to measure wildlife samples, conducting visual fish counts, studying the locations and conditions of stomatopod burrows, and conducting dives to make firsthand observations.
This exhibition, curated by Matt Stahl, University Archivist, UCSB Library, and Kristen LaBonte, Life & Environmental Sciences Librarian, is intended to provide patrons with a glimpse into the scientific holdings in our Faculty Papers and manuscript collections.