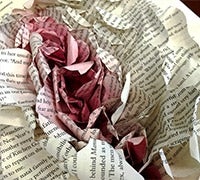 A Powerful Voice: Nurturing Creativity--Female Book Artists at the College of Creative Studies
Thu, 04/06/2017 - 8:00am

to

Tue, 09/12/2017 - 5:00pm
Exhibition
Location:
Special Research Collections
This exhibition exposes the intimate power of women's voices through book arts. As scholar and printer Johanna Drucker reminds us: "Women create authority in the world by structuring a relation between enclosure and exposure. The women who make books out of the materials of their lives and imaginations establish a balance that gives voice to their own issues on their own terms." The works represented here reflect the diversity of the female voice and the talent of the students, faculty, and alumni from UCSB's College of Creative Studies Book Arts Program.
Opening reception is on Thursday, April 6 at 5pm in the Library's Special Research Collections.  This event is free and open to the public.
Companion exhibition Bridging Fine Art With Book Arts and Literature at the Arts Fund opens on July 21, 2017.