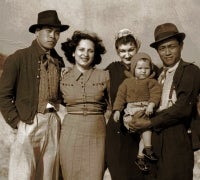 Postcards from Salinas: Filipina/o Americans on the Central Coast
Wed, 10/20/2021 - 12:00pm
Event
Location:
Online
Please join us for a virtual conversation about the history and contributions of Filipina/o Americans on the Central Coast. This event is in conjunction with UCSB Library's exhibition
Postcards from Salinas
, on display in the Library's Ocean Gallery beginning October 1, 2021.  
Panelists will include Alex Fabros, Jr. curator of the exhibition,
Benjamin Zuleta
(UCSB Asian American Studies), and
Grace Yeh
(Ethnic Studies, Cal Poly, San Luis Obispo). 
Paul Spickard
(UCSB History) will moderate the discussion.
Alex Fabros is the third generation of his family to live in Salinas, California, where he briefly worked as a migrant farmworker after graduating from Salinas High School. In 1965, he participated in farm labor strikes at Gonzales (asparagus), Coachella and Delano (grapes).  Alex was a professor of Asian American Studies at San Francisco State University from 1992 to 2006. He did graduate work in History at UCSB, in Ethnic Studies at San Francisco State University, and studied Chinese Mandarin, Korean, and Vietnamese at the Defense Language Institute in Monterey, California.