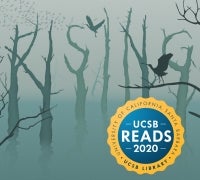 Our Response to Climate Change and Sea Level Rise: A Pop-Up Zine Display Inspired by UCSB Reads
Fri, 02/28/2020 - 12:00pm

to

Tue, 06/16/2020 - 12:00pm
Exhibition
Location:
Art & Architecture Collection
In conjunction with UCSB Reads 2020, zines created by students at UCSB Library's recent DIY Zine Workshop will be on display through Spring 2020.
Zines (pronounced "zeens") are self-published, DIY collections of photos and text that are printed by hand or photocopied, and independently distributed by the author or "zinester".
Participants contributed to a group zine exploring the themes from the UCSB Reads selection Rising: Dispatches from the New American Shore, by Elizabeth Rush. These themes include sea level rise and climate change, climate anxiety, and how race, class, national origin and income levels further exacerbate vulnerability.