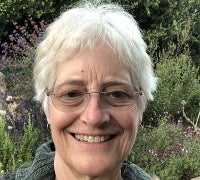 Event
Location:
Pacific View Room
UCSB Library presents a talk by Ann Taves, Professor of Religious Studies, to be followed by a public reception.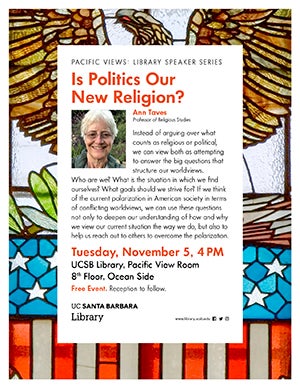 "Is politics our new religion?" How we answer this question depends on how we define religion and politics, both of which mean different things to different people (including scholars). Instead of arguing over what counts as religious or political, we can view both as attempting to answer the big questions that structure our worldviews. Who are we? What is the situation in which we find ourselves? What goals should we strive for? If we think of the current polarization in American society in terms of conflicting worldviews, we can use these questions not only to deepen our understanding of how and why we view our current situation the way we do, but also to help us reach out to others to overcome the polarization. 
Taves talk is part of UCSB Library's Pacific Views: Library Speaker series. Pacific Views is an opportunity for UCSB faculty and graduate students from diverse disciplines to speak about their current research, publications, or creative work. 
Click on poster image to view large pdf.